KAUSAY WASI CLINIC, Coya, Peru
The Kausay Wasi Clinic is a medical facility located about 1 hour by car from the city of Cuzco. Under the leadership of Guido and Sandy Del Prado, the Clinic opened in May, 2005 to serve the indigenous and low income people of the Sacred Valley of the Incas. Capitol City Medical Teams handles the Clinic's United States donations and sponsors medical teams there.
You can see a 6 minute video about the Clinic at www.youtube.com.
[Español version]
The Kausay Wasi Clinic also has an Adopt A Family program where for $200 a year you can adopt a Peru family in need. The family will get complete access to the services at the Clinic for free. The donor will get a picture of the family and a report of the services they received after one year.
To contact the Clinic visit their website at: www.kausaywasi.org
ONE CHILD AT A TIME, Salem, Oregon
Founded by Dr. E. David Shaw, One Child at a Time annually sends a children's orthopedic team to the Kausay Wasi Clinic and various locations in Ecuador. This group created the Kausay Wasi Clinic's new Prosthetics Center.
The Journey from David Shaw on Vimeo.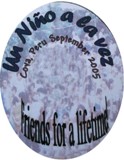 EL CIELO PARA LOS NIÑOS DEL ECUADOR, Guayaquil, Ecuador
This organization's name translates to "Heaven for the Children of Ecuador." It was founded by Dr. Zorayda Figueroa in 1967. Her organization sponsors medical teams from all over the world to provide health care to those in need. For over a decade Capitol City Medical Teams has been working with Dr. Figueroa.
You can learn more about El Cielo Para Los Niños and its founder by going to
www.come.to/cielo.
AMERICARES, Stamford, Connecticut
Americares is a non-profit medical organization whose purpose is to distribute donated medical equipment and supplies to national and international disaster relief and medical teams. Capitol City Medical Teams has been fortunate to receive several donations from Americares.
Americares can be contacted at:
Cia Marion, Manager
Americares
88 Hamilton Avenue
Stamford, CT 06902
Phone (203) 658-9500
Fax (203) 658-9604
www.americares.org
Cascade DAFO, Inc., Ferndale, Washington
Cascade DAFO, Inc. consistently provides dynamic ankle foot orthotics for Capitol City Medical Teams in support of our orthopedic teams. We greatly appreciate their continued generosity.
Contact: www.cascadedafo.com