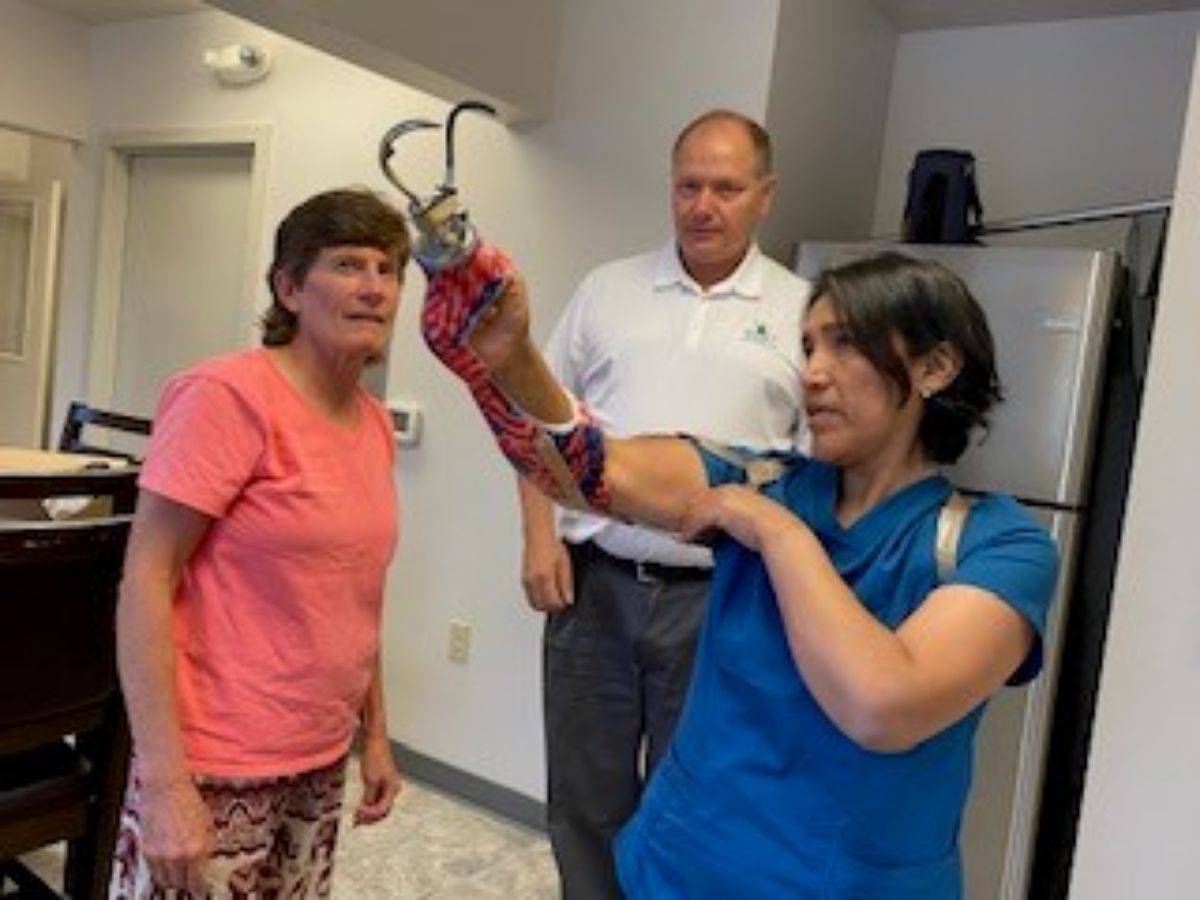 Team Leader: Frida Puma
Team Type: Learning to Make Prosthetic Arms
Campaign Summary: Frida Puma, the physical therapist at the Kausay Wasi Clinic, came to Summit Prosthetics in Salem, Oregon for two months of training in how to make prosthetic arms.
Supporters:
Charitable Aid Foundation of America — Alexandria, Virginia
Eric Miller and Dr. Kim Geelan, M.D. — Salem, Oregon
Kausay Wasi Clinic — Coya, Peru
Open Arms International — Clackamas, Oregon
Sam Perez — Salem, Oregon
Summit Prosthetics and Orthotics — Salem, Oregon
Tierra's Angels Foundation — Los Angeles, California
Team Members:
Russel Allstot
David Brautigam
Steven Jahn
Todd Nelson
Sam Perez
Frida Puma
Taylor Wyatt
Narrative:
Frida Puma, the trained physical therapist who works at the Kausay Wasi Clinic, came to Salem, Oregon for the second time. While in the United States, she stayed with Eric Miller and Dr. Kim Geelan, M.D. Her goal was to receive training in making and fitting functional arm prosthetics. Her two month stay involved training at Summit Prosthetics and Orthotics in Salem, Oregon. Her transportation was subsidized by Tierra's Angels and Charitable Aid Foundation of America. 
While receiving training, she built a transradial (below elbow) prosthetic arm for Simeon in Kenya, Africa. Tara Lepp of Open Arms International and a retired professor from Linfield College in McMinnville, Oregon informed Todd Nelson, the owner of Summit, of the need for the prostheses. He knew this would be a great opportunity for Frida to learn. Tara provided Simeon's dimensions needed for the prosthesis. Working with trained technicians, Frida and the technicians were able to each make a prosthetic arm for Simeon. While in the United States, Tara picked up the two prostheses as well as instructions for how to use them. She flew back to Kenya and provided them to Simeon. He now has two functional prostheses. 
Frida also took part in working with two patients who received services and prosthetics without charge. One patient needed a transradial prosthetic and the other needed a transhumeral prosthetic. These projects involved casting and modifying procedures, fabricating check sockets, fitting check sockets on patients, modifying plastic for a better fit, setting up check sockets with terminal devices (hooks), a mechanical wrist, mechanical elbow and harness with upper extremity hardware. 
She became familiar with new techniques, materials, and equipment to better make prostheses when she returns to Peru. 
Frida feels more confident in making functional prostheses. We are confident that she will apply her skills to people who need them. 
She is extremely grateful to all of the supporting organizations and people for the support and opportunity she has received in order to get this additional training.