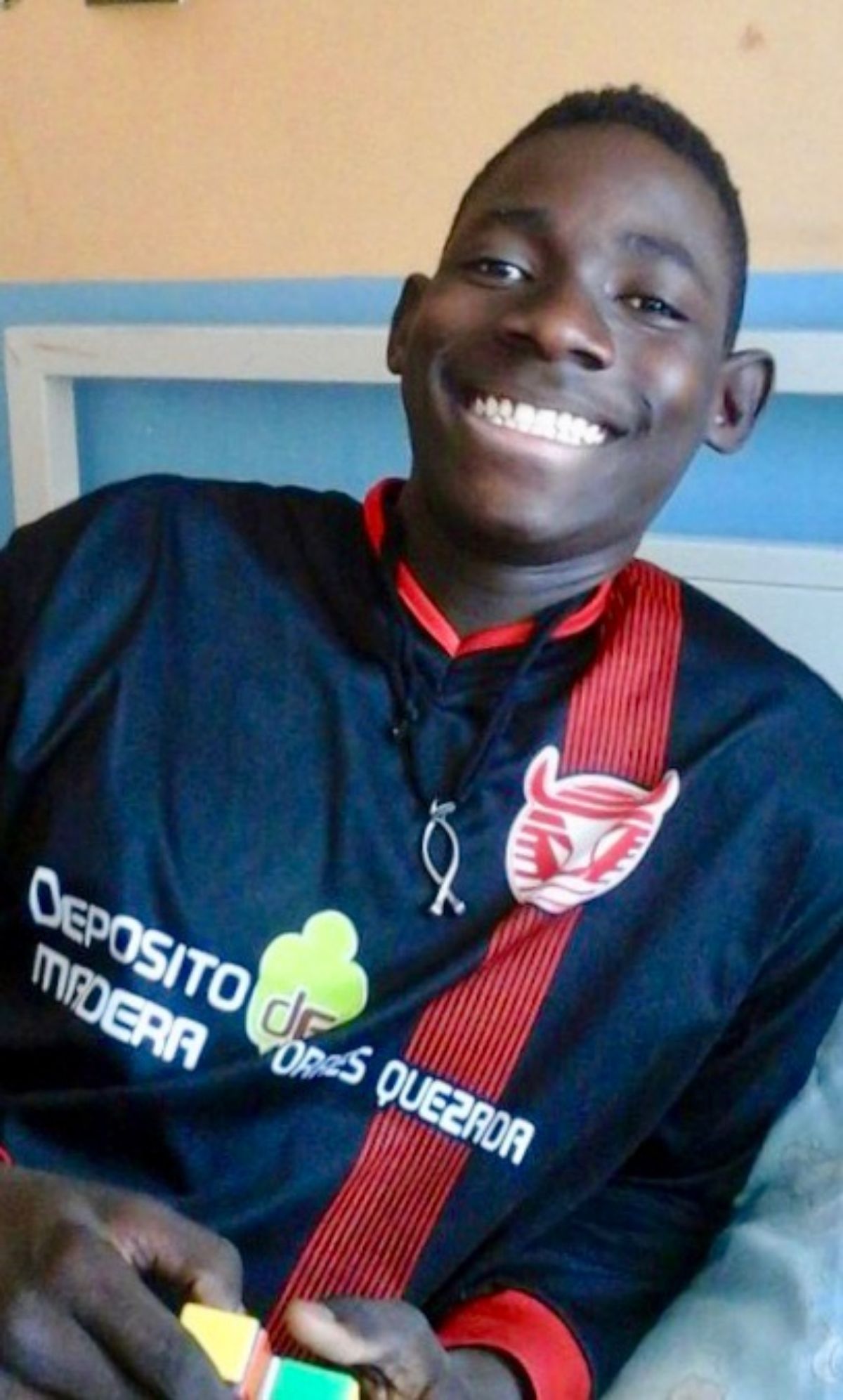 Team Leaders: Robert and Nicole Garcia
Team Type: Adoption
Campaign Summary: Beginning on Marcelino's birthday in 2017, Robert and Nicole Garcia began the process of adopting him. He is the double amputee orphaned Ecuadorian young man referred to in the 2017 and 2018 medical campaigns to Guaranda by Dr. Shaw's medical teams. The process was finally completed when he was brought to Salem, Oregon in September 2020.
Supporters:
Friends of Marcelino — Various Locations
Members of Dr. Shaw's Medical Teams — Salem, Oregon
Narrative:
The Arrival of Dr. Shaw's Medical Team to Guaranda, Ecuador, October 2017
Dr. Shaw's orthopedic medical team arrived in Guaranda in October 2017. As usual, his team saw hundreds of patients. Yet one patient stood out a little more than the others. His name was Marcelino, a 15 year old young man from an orphanage. He suffered from multiple lower congenital abnormalities including arthrogryposis. He moved about by scooting with his arms or with the use of a large skateboard. He also benefited from someone at his orphanage giving him a used arm-powered adapted wheelchair. His goal was to stand and walk just like his friends. Dr. Shaw's team performed a bilateral below the knee amputation and release of his hip contractures. Guy Farris and Sam Perez then fitted him with a temporary leg prosthesis.
Robert and Nicole Garcia's Decision to Adopt
For years Nicole Garcia had been expressing the desire to add to her family of 4 through adoption. But Robert Garcia just wasn't feeling the same compelling draw towards adoption. In October 2017, Robert Garcia went with the team to Ecuador. There he met Marcelino. Almost instantly his whole world was rocked and his heart was drawn to this young man in an undeniable way. Because Nicole's heart had already been yearning to add to her family through adoption, Marcelino was asked if he would allow us to pursue adopting him. The answer was yes!
The Return of Dr. Shaw's Medical Team to Guaranda, Ecuador, October 2018
On the return trip to Guaranda, Marcelino was there. The team noticed that he didn't have sufficient flexibility in the hip joint for an adequate range of motion. It was decided that a tendon release should be performed. To provide additional stability, some plates and screws were installed. He will now be one "step" further along in his ability to use his prosthetics.
The Adoption Process
In November 2018, due to a no-contact order by the U.S. government and the Ecuadorian government (this is standard procedure for most international adoptions), the Garcia's were not able to have any personal contact with Marcelino for six weeks or so. As a result, Robert and Nicole were unable to speak with Marcelino or with the orphanage staff. After over a year of speaking practically daily, sometimes more than once in a day, this was an extremely difficult time for the Garcias as they think of and pray for Marcelino often. They have petitioned for an exception to be made so that we would be allowed to have contact. A few days later Nicole helped Samantha Schmit compose and translate an email from her asking Marcelino how he has been.
Here on the home-front the adoption process trudged along. In October the Garcias hit the huge milestone of their home study being formally completed by Holt Adoption (in Eugene). The completed home study was forwarded on to the placing agency which is located in Minnesota. From this point forward the agency in Minnesota was who the Garcias primarily dealt with. They have simultaneously sent their home study on to United States immigration services as well as having our documents translated in to Spanish and sent to the Ecuadorian powers that be.
The Garcias now entered the waiting part of the adoption process. Most families at this stage are eagerly anticipating getting a "referral" of a specific child or sibling group from their specific country of choice. However, this was not the case in their situation. They already had a specific young man that they were eagerly awaiting approval to adopt. It was their understanding that once they got specific approval to adopt Marcelino, they would also receive the necessary permission to travel to Ecuador. It was a bit unclear to them as to how much heads-up notice they would get prior to traveling.
During this waiting period they put another fundraising push into action. In a matter of weeks and months they needed to be submit several large payments to the Minnesota agency as well as purchase plane tickets and make other travel arrangements for Robert, Nicole, Simeon (Their 17 year old son) and Samuel (their 15 year old son). They pursued several scholarship and matching grant opportunities. They also worked with a local videographer to produce a video that told Marcelino's story and asked for people to come along side of them in prayer and if possible, financially as well.
1-15-20 Update
The Garcias completed another round of paperwork. That said, the home-study was in the hands of USCIS (US Citizen and Immigration Services) office. This was exactly where they were before Simeon and Marcelino had birthdays and therefore needed to update the home study. The next piece in the adoption process was to complete an I800a to comply with the Hague Convention's international adoption rules. This step took several weeks. Once Ecuadorian government matched the Garcias with Marcelino, they could complete the I800 which was Marcelino's visa that allowed him to travel to the U.S.  
Final Adoption and Life in the United States with the Garcia Family
On September 12, 2020 Marcelino made it home to Salem, Oregon after a three year adoption process. The Garcia family has enjoyed watching Marcelino have many firsts: his first snow, his first 5K, his first hair extensions, and even his first driver's permit. Yay!!
Most importantly, Marcelino now has a forever family!