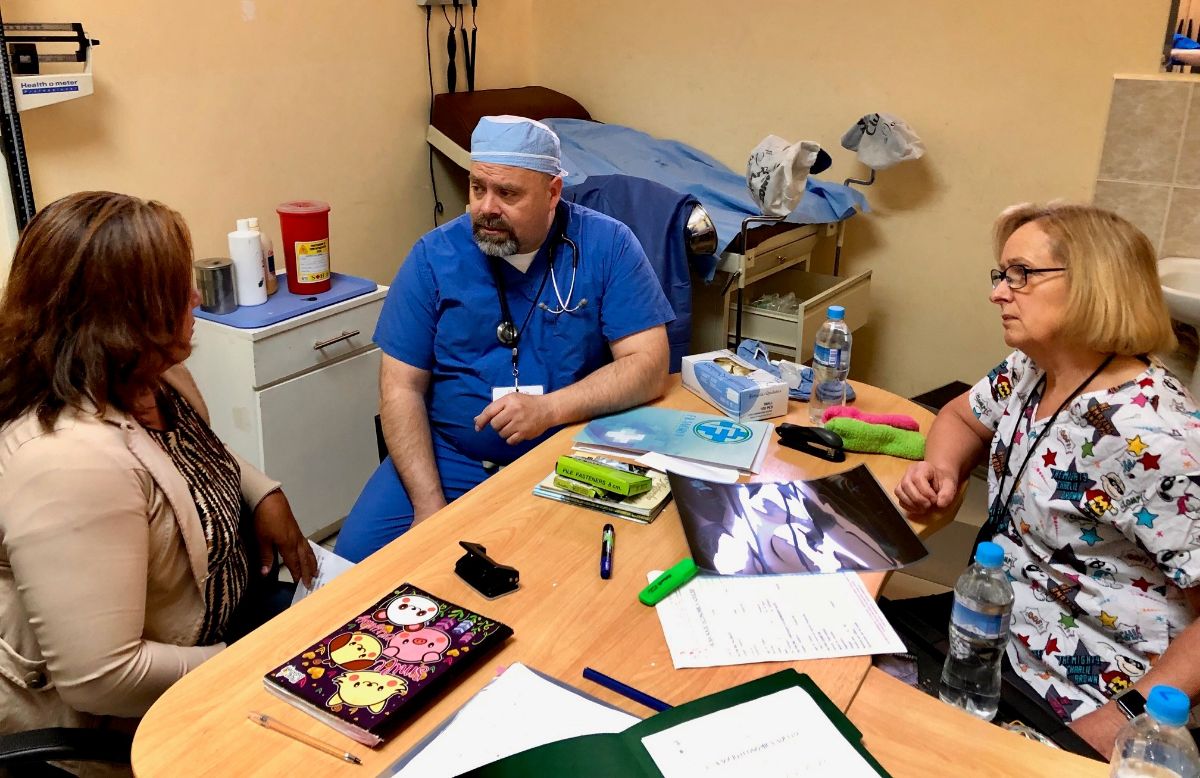 Team Leader: Dr. Laura Chong, M.D.
Team Type: Gynecology
Campaign Summary: There were around 100 patients triaged. There were 15 surgical procedures performed such as vaginal hysterectomies, a cystocele repair, an ovarian cystectomy, tubal ligations and oophorectomy (removal of an ovary).
Supporters:
Dr. David Shaw, M.D. — Salem, Oregon
El Cielo para los Niños del Ecuador — Guayaquil, Ecuador
Friends of Dr. David Shaw — Salem, Oregon
Salem Clinic — Salem, Oregon
Salem Health — Salem, Oregon
Team Members:
Dr. Angela Anderson, M.D., Anesthesiologist
Dr. Nathan Bay, M.D., Anesthesiologist
Angelique Cervantes, Scrub Technician
Rena Chayanam, R.N., Nurse
Dr. Laura Chong, M.D., Obstetrics/Gynecology
Kayla Goldman, R.N., Nurse
Dr. Robert Harder, M.D., Obstetrics/Gynecology
Donna Harris, R.N., Nurse
Andrea Hughes, R.N., Nurse
Jana Marchand, R.N., Nurse
Deb Roth, R.N., Nurse
Jodi Roth, Interpreter
Lori Schomus, R.N., Nurse
Narrative:
By Dr. Laura Chong, M.D.
This trip was my third medical mission overseas, but the first trip being the team leader. The first two trips were enjoyable and productive. I had a lot less anxiety during those first two trips since I was only responsible for doing triage and surgery – work I have been doing every day for years. Now I was responsible for forming a team; making sure all the licenses, certificates, and notaries were in order for the Ecuadorian government (We even had to provide notarized copies of our medical school diplomas!); making sure I had all the supplies; and making sure there were hotels rooms for everyone. Fortunately the transportation, hotel suggestions, and security were arranged by our Ecuadorian host, El Cielo para los Niños del Ecuador.
Travel arrangements were also something I had to organize. Flights were complicated. We needed to fly into Guayaquil from Portland, Oregon. There was a weather delay in Dallas and we missed our connecting flight to Miami. We spent the night in Dallas. The team remained flexible with spirits high. Upon arrival in Miami, we learned that the next available flight to Guayaquil was the next day. The following day, we were fortunate to be able to catch a flight to Guayaquil.
Upon an evening arrival in Guayaquil, we spent the night there. In the morning we had a several hour bus ride to Riobamba. Along the way we stopped at a local fruit stand. (I am amazed at the different types of fruit that are available here!) Upon arrival at Riobamba, we stopped briefly at our hotel to unload our belongings, then went to the hospital.
Since we were arriving 24 hours late, the team in Riobamba had several patients who had already been screened and were waiting for surgery. They had not had anything to eat for two days. We quickly organized the operating rooms, evaluated the patients and started surgeries that afternoon. The team pulled together very well. We did four surgeries and conducted a few triages. Today was a busy day!
The next day we started with post–op rounds to review the patients and then we triaged more patients. Over the next few days we saw around 100 patients and performed 15 surgeries. The surgeries were mostly vaginal and uterine prolapse repairs, urinary incontinence surgeries, and removal of ovarian cysts and pelvic masses. Urinary incontinence is a serious problem in this culture because women are shunned if they have this problem. Further the sanitary supplies that are commonplace in the United Stated for people with this malady are cost prohibitive for many of the indigenous people. Uterine prolapse cause issues with marital relationships and divorce is common which can have serious negative financial impact for the women.
Some women would come to triage with ultrasounds showing cysts or fibroids. The women don't fully understand the significance of the findings and if something needed to be treated, they didn't have the money to obtain the needed medical care.
Much of our time in triage was spent evaluating patients, explaining what issues they had, reassuring them that their issues were normal and explaining they didn't need any treatment.
The surgical suites at the hospital had most of the larger equipment that was needed, but we had to bring all needed medications, instruments, and sterile supplies. At the time of the surgeries, there were several students in the room observing. These were students learning to be operating room technicians, nurses, and scrub assistants. We did our best to answer their questions about patient disorders, anatomy, and details of the surgeries.
After a couple of days, the hosting organization was able to get some free television time on a local station where our team was featured doing our work. This advertising brought an influx of triage patients. And despite being told by our hosts that there were only three more patients to be triaged, this number stayed the same for about 20 more patients.
Some team members brought donated materials to give to children. A nearby orphanage was found and some of the team members slipped away for a brief time to give these donated items to them. They were appreciative of their gifts.
To maintain patient care and monitoring, our hosting organization provides a local physician for follow-up care for those that need it. We met with this physician and rounded on the patients together on the last day. We felt like we were leaving our patients in good hands. We also made sure that the physician could contact us in the event there were problems.
On the last day, the team boarded the bus and went to Mt. Chimborazo, one of the highest points in South America, for a little sightseeing prior to our trip back to Guayaquil and home. The flights home were also delayed, unfortunately. We spent a full day sightseeing in Dallas and struggled to get flights home.
Despite having flight delays and a few medical supplies stolen at the hospital, the trip was a success. Patient lives were changed. The surgical team pulled together well. Many of the nurses had not been on previous medical mission trips. They experienced new challenges and responsibilities. We all grew together as a team. I have gained confidence in my ability to lead our next team. We are looking forward to the next trip back to South America within a year or two.