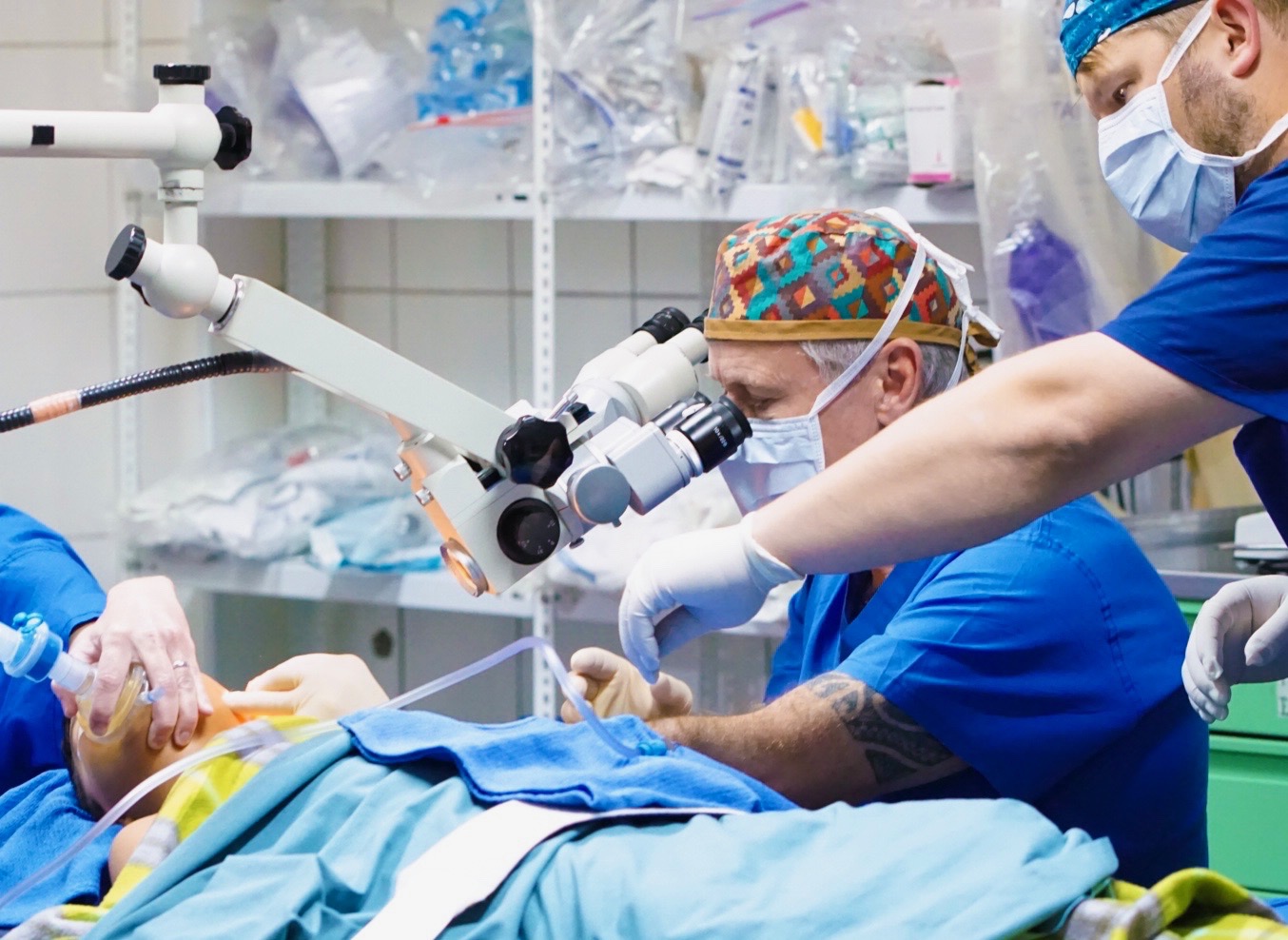 Team Leader: Dr. Mitch Brock, M.D.
Team Type: Otolaryngology (Ears, Nose and Throat – ENT), Pediatric Wellness, Healthcare Provider Education in Helping Babies Breathe and Helping Mothers Survive (childbirth).
Campaign Summary: There were 231 patients triaged and 30 diverse surgical procedures performed. The ear surgeries included extensive rebuilding of eardrums and the removal of tumors from the mastoid bone. Nasal surgeries such as septoplasties, polypectomies, turbinectomies, and rhinoplasties were also performed.
Supporters:
Kaiser Permanente Sunnyside — Portland, Oregon
Stayton Pharmacy — Stayton, Oregon
Willamette Ear, Nose, and Throat — Salem, Oregon
Team Members:
Anonymous
Brigit Bauman, Assistant
Julie Benes, Nurse
Dr. Karoline Brock, M.D., Pediatrician
Dr. Mitch Brock, M.D., Otolaryngologist (ENT)
Rachel Brock, Translator
Lisa Harrison, Certified Registered Nurse Anesthetist
Melissa, LeClaire, Nurse
Dr. Steven Long, M.D., Otolaryngologist (ENT)
Dee Mahuika, Perinatology Project
Dr. Chloe Maycock, M.D., Anesthesiologist
Sandy McDonald, Nurse
Angela Nguyen, Nurse
Lourdes Quintana, Assistant
Alexis Royse, Assistant
Amanda Royse, Assistant
Jason Royse, Surgical Technician
Julie Stamper, Nurse
Narrative:
By Dr. Mitch Brock and Sandy McDonald
Getting There
Our 15th annual ENT mission to Peru had a challenging start with weather followed by a number of unfortunate events getting there. We left Portland at 11:50 AM heading to Dallas. As we neared Dallas, there were monsoon rains dumping over 5 inches in a few hours. We circled Dallas for an hour and a half. Then we were diverted to Austin. We sat on the runway for 2+ hours waiting for a gate. We divided and conquered to get in huge ticket lines to try to get back to Dallas to make our Lima flight. We were able to get tickets. Once on board, we sat on the plane for a while again before taking off. When we landed in Dallas, we again waited over an hour on the runway for a gate.
Once off the plane, we ran to the gate where our Lima flight was departing, but missed it by ten minutes. We were directed to a customer service desk where there were 300+ people in line. We again divided and conquered by getting in two lines. Three of us reached a counter. During the conversation with the agents, a supervisor came and shut the gate down stating that the agents' shifts were over. As you can guess there was much unhappiness.
Two team members spoke with him and shared that there were 150 people waiting at the Clinic for our team. He said he would only speak to one person, so Jason followed him back over to the customer service desk to the front. We were told they could not get us out of Dallas for two days. Another worrisome event involved the airlines not knowing where our luggage containing our medical supplies was. Further, unknown to us, the agent canceled all of our return flights. Fortunately, we were able to arrange return flight tickets while we were stuck in Dallas where we had reliable internet access.
While we waited we were able to get to know our team members, especially our new ones. You can learn a lot about people when best laid plans go wrong. Two things stood out. First that the number one concern was how this delay was going to negatively affect the people who come to the Clinic to be seen by our doctors and team. Not one person felt sorry for themselves. Secondly we bonded and made the best of our time together – fish tacos, Bucky's, the Book Depositary and Hard Eight BBQ.
Overall, we were delayed by two days getting to Coya. Despite the delay in our arrival, our week was just as productive as prior years, with 30 general ENT surgeries performed and 231 patients seen in the Clinic. This group was exceedingly resourceful and efficient, allowing the planned schedule to be compressed into fewer days. Our team provided services for a variety of general ENT needs – evaluation and treatments that are not available to the mostly rural impoverished population of the Sacred Valley.
Helping Babies Breathe and Helping Mothers Survive (childbirth)
Dr. Karoline Brock, M.D. began accompanying her husband on his annual medical mission to Peru in 2009. As a pediatrician for newborns, she saw many children in the Kausay Wasi Clinic. She noticed a remarkable number of them with developmental delay, some due to delayed effective respiration at birth. As she inquired further, she discovered that the impoverished families living in the rural highlands often have very little access to competent newborn care and that many of these neurologically devastating injuries could be lessened or prevented from improved neonatal resuscitation. She received certification through the American Academy of Pediatrics as an instructor in a program called Helping Babies Breathe, a global effort to educate and equip health care providers in third world countries to better care for newborns in their vulnerable first minutes of life.
With this training and supporting Spanish language instructional materials including posters, booklets, and practice baby mannequins, she has shared her expertise with dozens of rural nurses, midwives, and lay practitioners throughout the Sacred Valley and surrounding areas. She has personally provided life-saving resuscitation to two critically ill infants and accompanied them in an ambulance ride over the mountain pass to a hospital in Cusco. With improved care of newborn babies through programs like Helping Babies Breathe, she is hoping that future generations of Peruvian children will have better neurological outcomes. She and Miriam, a Quechua speaking nurse from the Kausay Wasi Clinic, also visited several rural schools to provide medical and dental screenings. 
A Difficult Operation and Decision
When performing medical mission work, as with all medical work, the first rule is to do no harm to the patient. In some cases following this rule requires difficult decisions while functioning in an environment with very limited preoperative investigation and imaging, as well as challenges for post-operative care. For example, on this trip a patient presented with a prominent neck mass. It had been biopsied by doctors in Cusco which suggested this represented a brachial cleft cyst, a common benign neck cyst. Because it was enlarging and bothersome, the patient requested it be removed and we agreed. Through careful and detailed dissection, Drs. Long and Mitch Brock found out that the tumor actually arose from the ceratoid artery and was highly vascular. They had a choice. They could continue the operation where there could be dangerously excessive blood lose or they could stop the procedure and have it performed in a hospital with vascular capabilities where there would be much less risk to the patient. Although the Clinic is a great place to work and do surgery, it is not equipped to handle high risk complicated surgeries such as this one. This procedure would be challenging at any major hospital. The team decided it would be in the patient's best interest to stop and have the procedure done in a hospital where the blood lose could be controlled and minimized with transfusion resources available.
Saul
There frequently is tangential effects of our presence in Coya.  Five or so years ago we met and fell in love with a boy named Saul. Dr. Karoline Brock examined him in the Clinic and recommended that he have some follow up for his cardiac condition. This past year he and his family traveled to Lima for surgery. He was supported by Lourdes Quintana, a team member who lives in Lima, and a fund was set up by our team to assist the family with medical expenses. Saul is feeling better and now he is able to run and play without getting short of breath.
End of Trip Celebration
Over the years we have developed close friendships with the Clinic staff. Many have become personal friends. A highlight of the week is the dinner that we host for the Clinic staff. As always we look for Guido and the staff to break out in song. Steve Long found the words to a song that they have always sang together. Last year and this year all of us were able to join in.  Also this year we celebrated the birthday of a special team member, Brigit Bauman. She will unbelievably turn 81 this month.