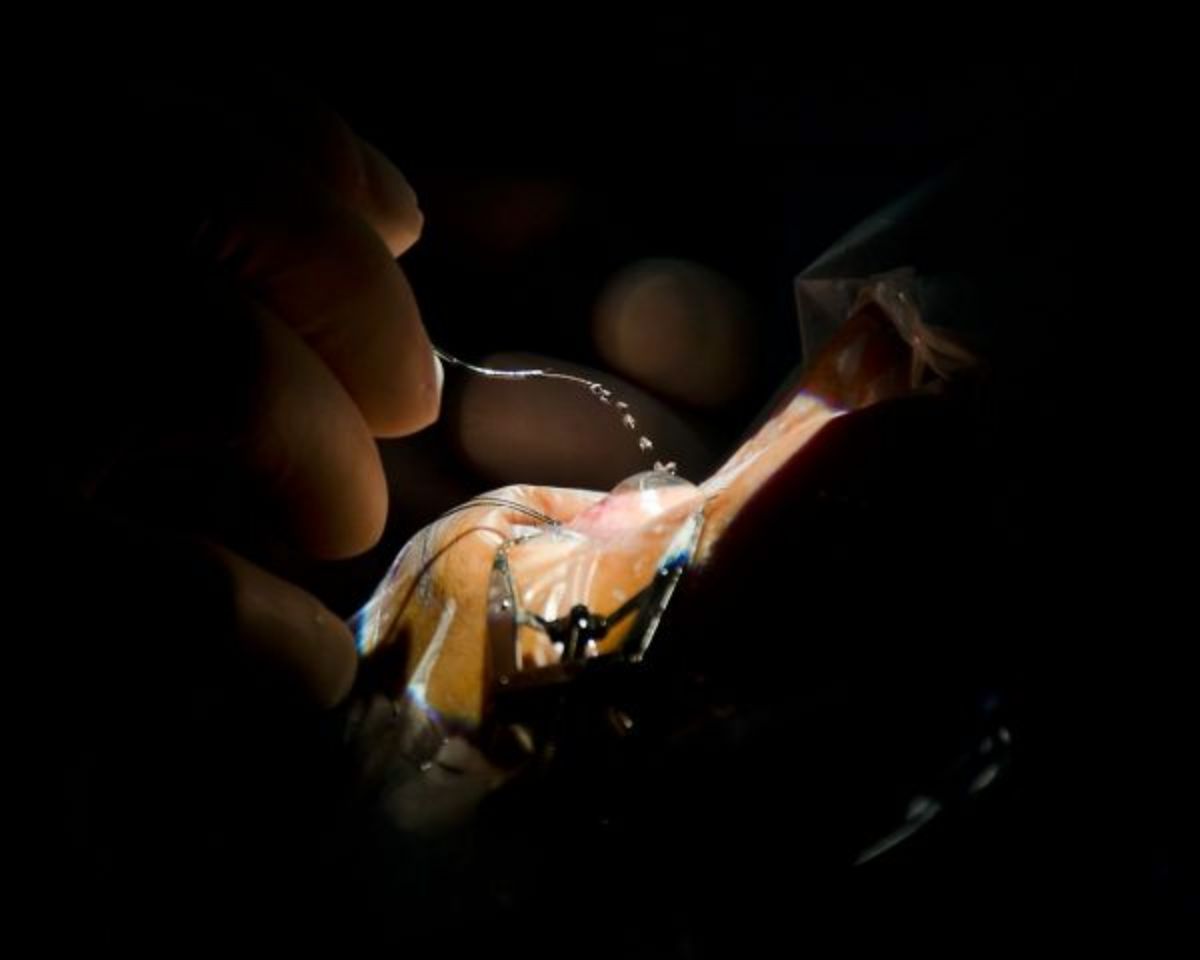 Team Leader
: Dr. Roger Saulson, M.D.
Team Type: Ophthalmology
Campaign Summary: There were 203 patients triaged and 25 surgical procedures performed. Twenty-four of the procedures removed cataracts and one procedure was a pterygium. There were also three Yag Laser posterior capsulotomies.
Supporters:
Alcon Laboratories — Fort Worth, TX
Surgical Eye Expeditions International (SEE) — Santa Barbara, CA
Team Members:
Ashley Burgess, Instrument Technician
Ryan Burgess, Ascan Operator
Barbara Chalmers, Assistant
Dr. Brent Chalmers, M.D., Ophthalmologist
Avery Dauphinais, Translator
Candace Dauphinais, Certified Registered Nurse Anesthetist
Lisa Dawson, Scrub Technician
Kathleen Hunnell, R.N., Nurse
David Lovenguth, Assistant
Marlene Lovenguth, Certified Registered Nurse Anesthetist
Matthew Monroe, Photographer
Dr. Roger Saulson, M.D., Ophthalmologist
Ginny Saulson, R.N., Nurse
Cherie Shevlin, R.N., Nurse
Bob Shevlin, Sterile Processing
Narrative:

By Dr. Roger Saulson, M.D.
Our team was assembled primarily from Portland, Oregon, with most of the team being affiliated with Eye Health Northwest. One of our Certified Registered Nurse Anesthetists (CRNA) was from Walla Walla, Washington and one of the nurses was from Oklahoma. We all traveled from our sites of origin and gathered in Coya, Peru on Saturday, June 23rd. After the customary check-in at the Coya Guest House including coca tea, we walked to the Kausay Wasi Clinic to begin unpacking and organizing our supplies for the week ahead.
The next morning we walked to the Clinic at 7:30 AM for a team orientation with Sandy and Guido Del Prado, the founders and directors of the Clinic. As we neared the Clinic, we were greeted by a large number of patients waiting outside the building in the cold morning air. Tears came to our eyes as the applause rang out from the patiently waiting crowd.
We examined 93 patients that day and began to build a list of patients for cataract surgery for the week. The surgical microscope that we brought with us suffered some damage during transport. The wires to the bulb and fan compartment had become detached. Fortunately, Tanya Quispe, the Clinic's engineer, was able to repair it after multiple attempts at recreating the proper connector.
Surgeries started the next day and each day we saw new patients, post-op patients from the previous days, and performed more surgeries. By the week's end we had seen 203 patients and performed 24 cataract surgeries, one pterygium surgery and three Yag Laser posterior capsulotomies. The surgeries all went well with no complications. We had to cancel a number of surgeries due to medical findings on their pre-operative blood work including three patients who tested positive for active syphilis and two patients with significant abnormalities on their blood counts (CBC). These patients were either treated or referred to Cuzco for further evaluation.
Matthew Monroe was one team member who had multiple roles. He worked in sterile processing and assisted where needed. He also took some very beautiful pictures of the people who visited the Clinic.
JULIAN CJANA
Julian Cjana is a weathered 84 year-old man. He came to the Clinic with his son, both beautifully outfitted in their traditional hats from high in the Andes. Julian had lost vision in his left eye from an injury many years ago. He was being led around by his son since gradually losing vision in his right eye due to a very mature cataract. I anticipated that his surgery would be difficult due to the density of his cataract and because his pupil did not dilate even with our strongest dilating drops. Concerned that this was his only chance at getting useful vision (since his left eye was already lost), I prayed for help form the Lord that he would guide my hands and allow for a successful outcome.
The surgery was extremely challenging, but I felt at ease, as I could truly feel God working through my hands during surgery, almost as if I was watching someone else do the surgery. It was a most powerful experience, one I had never anticipated or felt before. I was overcome by amazement and elation at the conclusion of this successful surgery. I was brought to tears at the sheer awe of what I witnessed.
PICTURE OF WOMAN ON THE RIGHT AND COUPLE ON THE LEFT
If there were to be a subheading for this image, it would probably be something along the lines of: "The Kausay Wasi Clinic is a study of contrasts: primarily the contrast of modern technology and surgical techniques against lifestyles, cultures, and economies that –– in so many ways –– have gone unchanged for hundreds upon hundreds of years." In this photo, we see so many of these contrasts: a young mother in traditional dress, seeking modern treatments for her young child, along with an older campesino couple, waiting for a post-operative exam, one day after the wife had undergone cataract surgery.
MARIA ROSARIO RODGIGUEZ de GRAJEDA
Maria is 86 years old and lives in the Sacred Valley. She came to the Clinic about losing her vision. After being examined, it was determined that she had a cataract in her right eye which obscured nearly all her sight. Her cataract was removed and her lens was replaced by Dr. Brent Chalmers. In one of the photos you can see an artificial lens being inserted through a small incision in her cornea. She recovered nicely and now has full vision restored to her eye.
Our team of 15 individuals from a variety of backgrounds came together to serve the needs of others and we all came away with the blessing of having received so much.