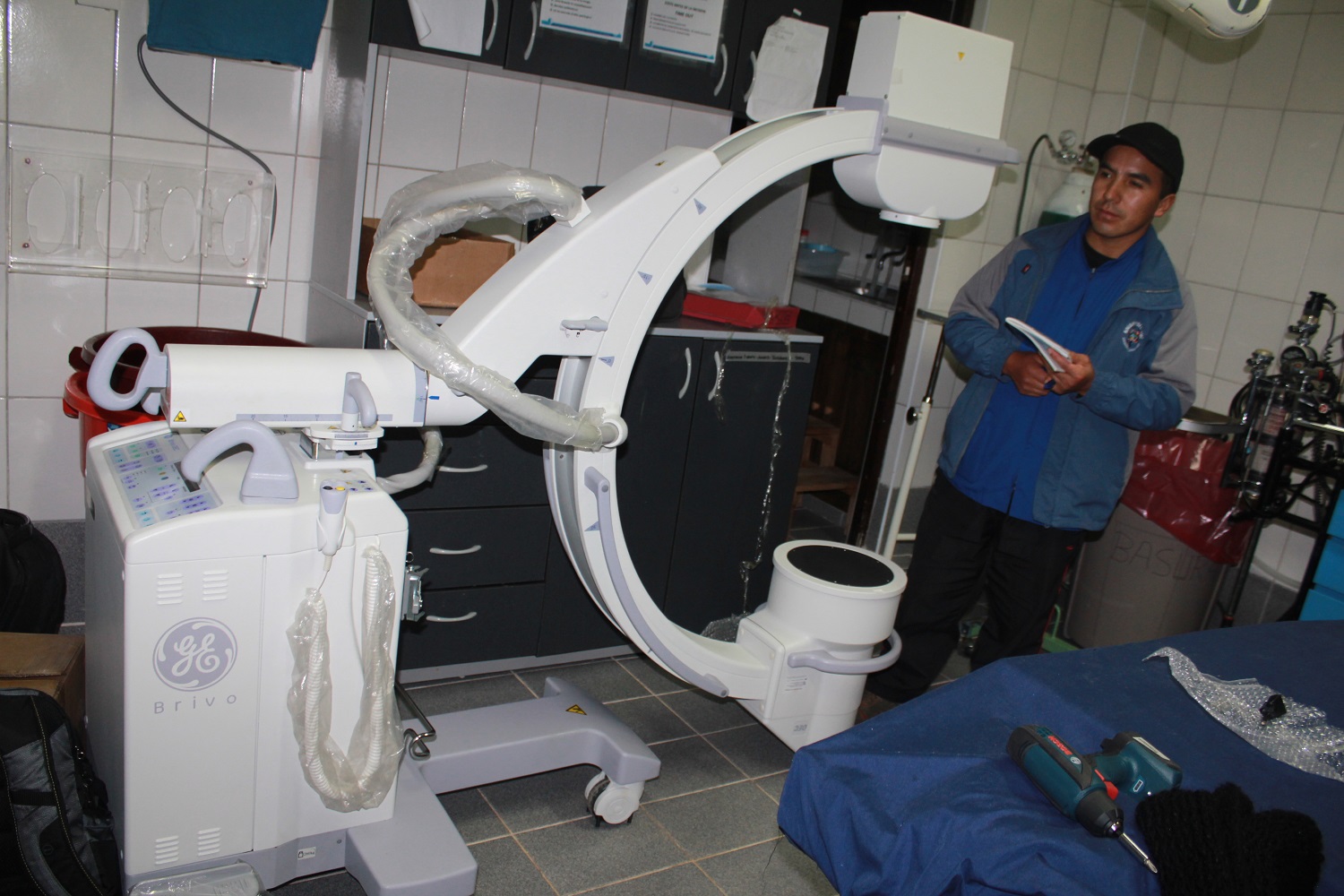 Campaign Summary: Acquisition of the GE C-Arm Brivo Essential and the Steris Operating Room Surgery Table
Funders:
Anonymous
Venture Medical – Tampa, Florida
William Walsh – Troutdale, Oregon
Narrative:
In February, 2016, Dr. David Shaw and Dr. Guido Del Prado, Director of the Kausay Wasi Clinic in Coya, Peru, discussed the difficulty of doing orthopedic surgery at the Clinic when it took so long to get x-rays of patients. Dr. Shaw said he would love to get live x-rays to speed up the process, improve the accuracy of his work, and promote patient safety. He suggested a machine with live fluoroscopic capability and said he would look into the situation. He communicated to Guido that he had found a donor who was willing to help fund the purchase of such a machine. Dr. Shaw suggested that we get in touch with NCD Medical Company. Chuck Patti offered a 1998 C-Arm machine for 40,000 soles. Peruvian customs advised Guido that a machine imported into the country could not be more than 5 years old. So this machine was out.
Other vendors were interested in providing a machine, but most machines were older than 5 years of age. If they were less than five year of age, they were too expensive to purchase.
Guido went to GE Peru and was told for that amount of money, it was not possible to purchase a top quality machine.
After looking into more options, nothing worked.
Guido called GE USA and was placed in touch with Janet Brandon with GE OEC Surgery, Florida West Coast Territory. She researched equipment that could be refurbished. Guido and Janet met a week later in Naples, Florida. Guido showed her Dr. Shaw's video called "The Journey" about his medical missions to Peru and Ecuador. She was moved by the video and said she would try to help.
Janet worked for 6 months to find a machine that would meet the Peruvian Customs requirement as well as the Clinic's needs and budget.
Janet said she would find a demonstration model that could meet the above requirements. After consulting with GE Lima, Peru, there were some things to work out. GE Surgery in Salt Lake City, Utah worked closely with the GE Division in Lima, Peru to move the project forward. They were looking at The South American GE model Brivo Essential. GE Lima already knew about the Clinic and was willing to support the project. GE Lima said they needed at least $36,000 to provide the machine. Two generous donors through Capitol City Medical Teams were able to provide the $36,000.
Now with the C-Arm almost acquired, the Clinic needed to compliment the C-Arm with a radiolucent surgery table. Guido spoke with John Pritchard II of Venture Medical located in Tampa, Florida. John recommended the Steris Operating Room Surgery Table and agreed to donate the table as long as the crating and shipping was paid for. The Clinic agreed to pay for these items.
Capitol City Medical Teams accepted the operating room table donation and subsequently donated it through their Grant Agreement to the Kausay Wasi Clinic.
The operating room table was crated and shipped to Coya, Peru.
GE Lima provided the installation, training and a 12 month warranty on the product. The C-arm has been a great addition and has helped to reduce the time patients are under anesthesia as well as improve the accuracy of the placement of medical items in the patient.