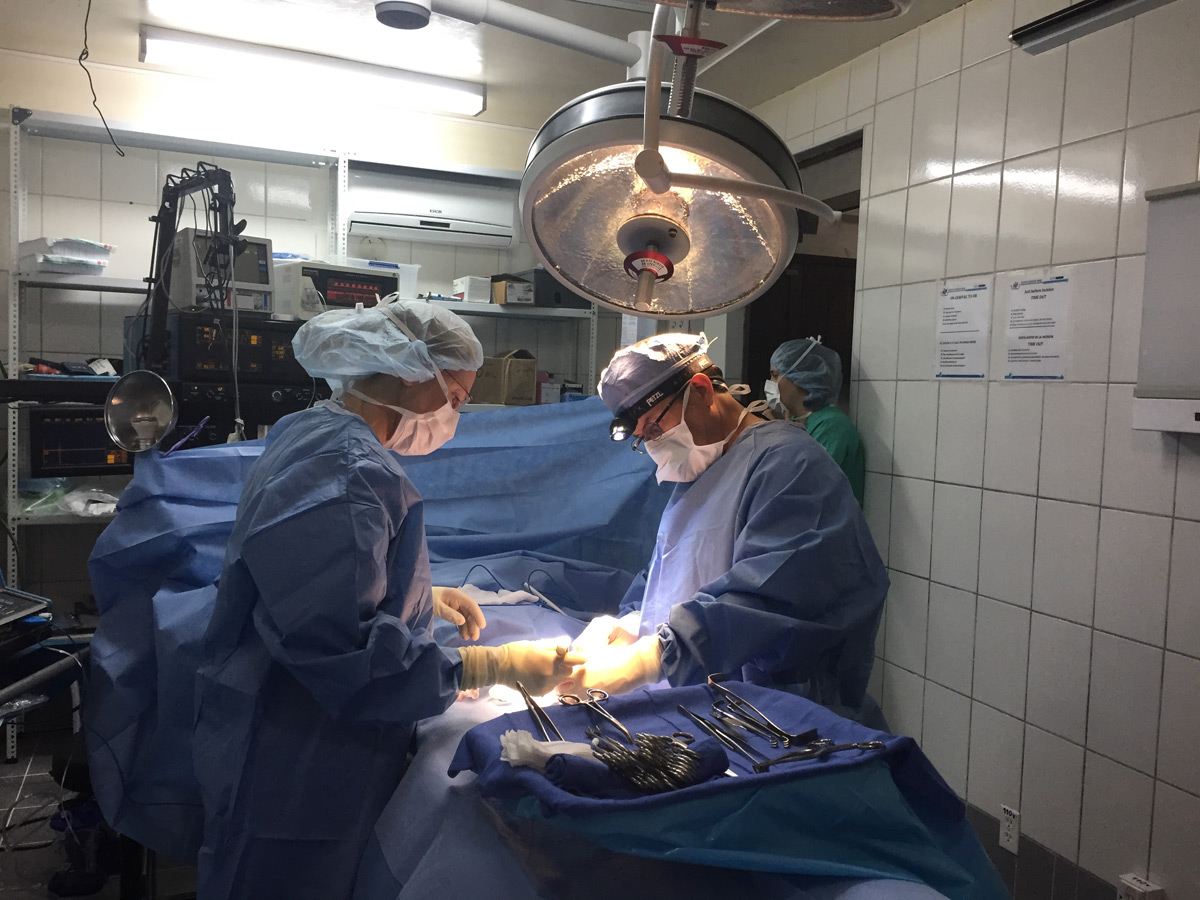 Team Leader: Dr. Mark Hershey, M.D.
Team Type: General Surgery
Campaign Summary: There were 103 exams/consultations performed and 50 surgical procedures completed.
Supporters:
Americares — Stamford, Connecticut
Highland Street Foundation — Newton, Massachusetts
Team Members:
Robin Beard, Surgical Technologist
Constance Bouvier, Operating Room Charge Nurse
Emma Hershey, Translator
Judith Hershey, Nurse Practitioner
Dr. Mark Hershey, M.D., Anesthesiologist
Robert Hoffman, Operating Room Nurse
Dr. William Kastrinakis, M.D., General Surgeon
Pamela Keene, Operating Room Nurse
Catherine McGovern, Perioperative Nurse
Melissa Phan, Perioperative Nurse
Dr. Igor Plotkin, M.D., Anesthesiologist
Dr. Jaime Rivera, M.D., General Surgeon
Lauren Tullie, Perioperative Nurse
Arqile Zeqo, Assistant
Narrative
:
This year two general surgeons (Dr. William Kastrinakis and Dr. Jaime Rivera) from North Shore Medical Center in Salem, MA joined the Newton Wellesley Hospital team for another productive week at the Kausay Wasi Clinic.
One of the oddities of this trip was the number of people from one family and village with severe and acutely thrombosed hemorrhoids. Due to the severity of the problem, the team didn't feel comfortable treating the problem surgically at this time. Our team needed a compounding pharmacy to mix nifidipine ointment with lidocaine. A compounding pharmacy was not available. So we decided to utilize one of our compounding pharmacies back in the States to mix it and send it down with a future team. A colorectal surgeon, Dr. Von Gryska, will be part of the 2017 team. Our hope is that some of the patients will return and he will be able to treat them in 2017.