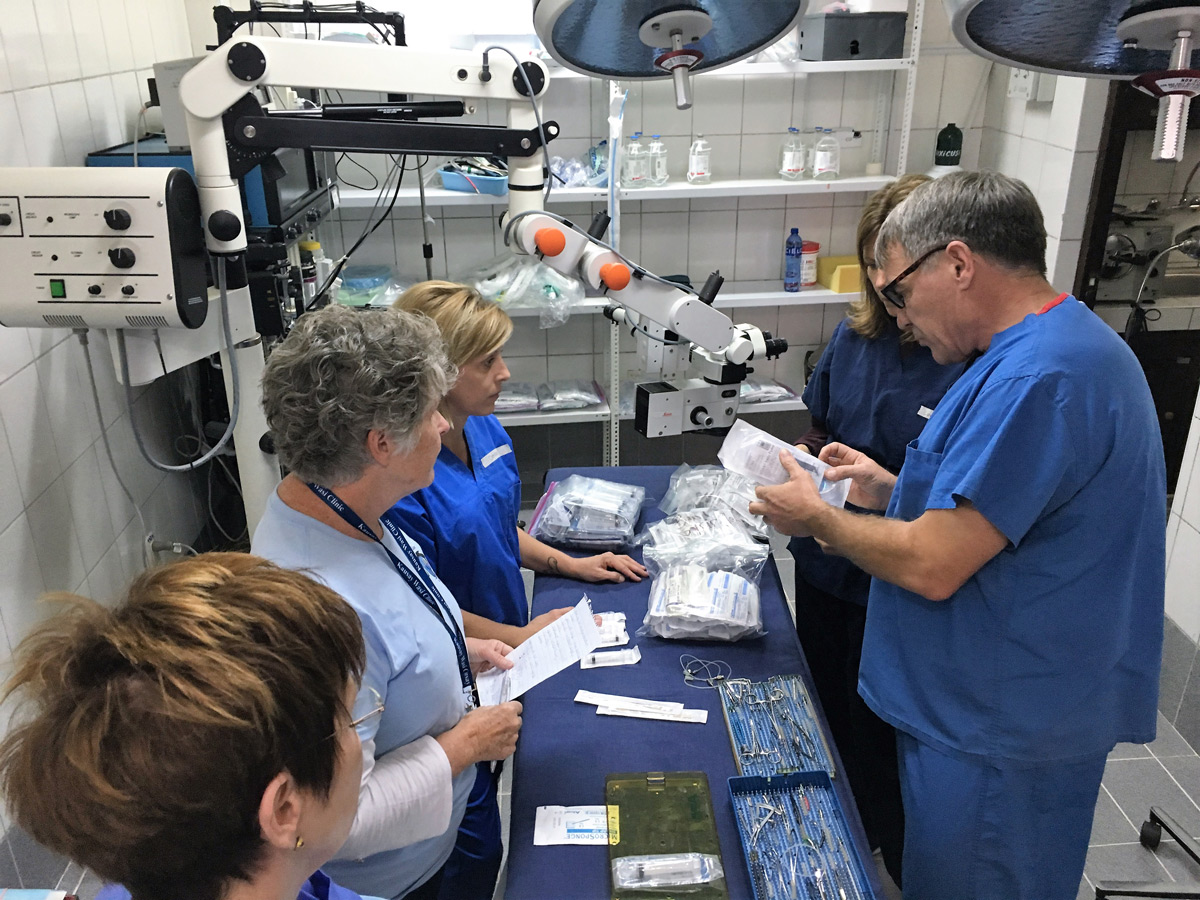 Team Leader: Dr. Paul Schultz, M.D.
Team Type: Ophthalmology
Campaign Summary: There were 279 patients examined. The following surgeries were performed: 31 cataract, 12 pterygium with autografts, one pediatric cataract, four strabismus, two nasolacrimal duct probings, and two lid procedures.
Supporters:
Alcon Laboratories — Fort Worth, Texas
Allergan Inc. — Irvine, California
Dutch Ophthalmic USA — Exeter, New Hampshire
Grants Pass Surgery Center — Grants Pass, Oregon
QuikShipMedical.com. — Niceville, Florida
Team Members:
Denise Childers, Scrub Technician
Charlotte Cooke, Ophthalmologic Technician
James Hoftiezer, Assistant
Mary Jo Hoftiezer, Assistant
Dr. Robert Montegomery III, M.D., Anesthesiologist
Ashleigh Ross, Patient Workups
Karen Ross, Patient Workups
Lori Schultz, Circulating Nurse
Dr. Paul Schultz, M.D., Ophthalmologist
Cathy Theen, Registered Nurse
Dr. James Theen, M.D., Endocrinologist
Narrative
:
Our trip was another success. There are three cases to highlight.
Nadia Viaz Quispa is a seven year old girl. She had a diopter reading of +12.5 in both eyes. At the time she came to the Clinic she could sense light and blurriness. She needed glasses to correct her vision, but no one knew where her glasses could be manufactured in Peru. Even if they could be manufactured, the cost would likely be prohibitive. So Dr. Schultz took her information back to States and had a pair of eyeglasses made for her. Once they were made, he shipped them to Eric Miller and Dr. Kim Geelan to take them to Peru with Dr. Shaw's orthopedic team in February, 2017. Once this team arrived, Nadia's family was notified that her glasses were in and they come to pick them up. Now she is able to see details and letters that will allow her to read.
One gentleman had bilateral hand motion cataracts for the past five years, making him functionally blind. He required three days of walking and bus riding to reach our clinic. Postoperatively he was 20/30 in the operated eye. He has a two-year-old granddaughter that he had never been able to see. Through surgery done by our team, he was able to see his granddaughter for the first time.
There was a little girl 40 diopters exotropic (both eyes pointing at opposite walls). Even at her young age, she was very sensitive to this. Postoperatively her eyes looked excellent and had nearly perfect alignment. You can see her enjoyment in viewing herself for the first time in the mirror, having eyes straight like the other kids around her.