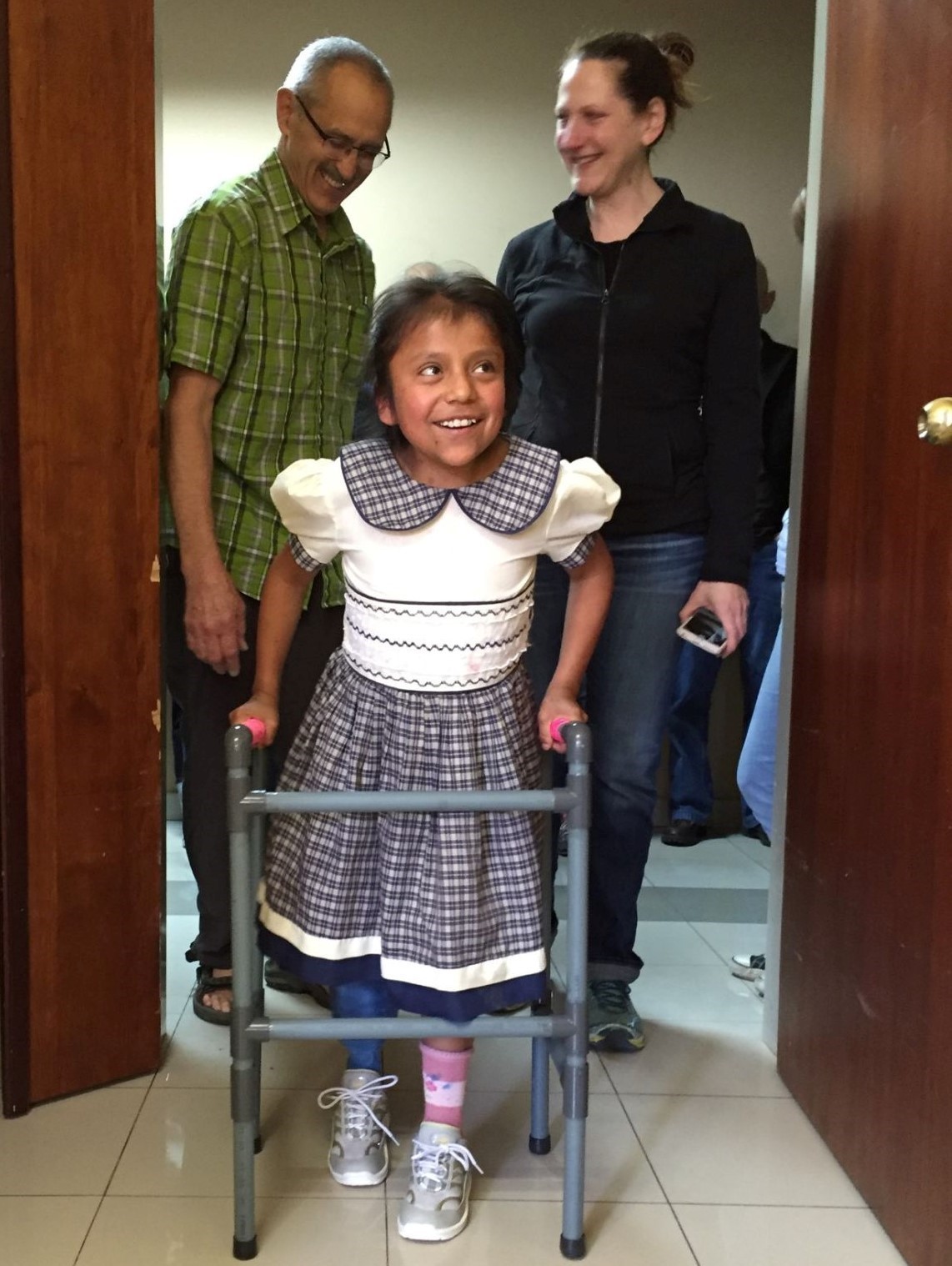 Team Leader: Dr. David Shaw, M.D.
Team Type: Children's Orthopedics, Prosthetics, Physical Therapy, Occupational Therapy, Obstetrics, and Gynecology
Campaign Summary: There were approximately 150 patients triaged, and 84 surgical procedures performed. As for the prosthetics side, there were 45 braces, multiple crutches and walkers, and one prosthesis provided.
The Campaign was Financed by Team Members and their Supporters. Some Supplies, Services, and/or Funds were Donated by the Followings:
Americares — Stamford, Connecticut
Friends of David Shaw — Salem, Oregon
Friends of Guy and Missy Farris — Lake Oswego, Oregon
MAP International — Brunswick, Georgia
Roger and Janet Olson — Salem, Oregon
Salem Health — Salem, Oregon
Bill and Margaret Walsh — Troutdale, Oregon
Team Members:
Dr. Angela Anderson, M.D., Anesthesiologist
Mary Boatwright, R.N., Nurse
Hannah Chong, Translator
Dr. Laura Chong, M.D., Obstetrician and Gynecologist
Guy Farris, Prosthetist and Orthotist
Missy Farris, Administration
Nicole Garcia, R.N., Nurse
Dr. Kim Geelan, M.D., Anesthesiologist
Val Jaeger, Scrub Nurse
Lauren Kjos, Interpreter
Terryl Lee, R.N., Nurse
Julia McMahan, Scrub Nurse
Pat Moss, Interpreter
Dr. David Noall, M.D., Orthopedic Surgeon
Dr. Ted Ragsdale M.D., Orthopedic Surgeon
Samantha Schmit, R.N., Nurse
Tabor Scrabeck, R.N., Nurse
Suzanne Sharp, R.N., Nurse
Dr. David Shaw, M.D., Orthopedic Surgeon
Nancy Simmons, R.N., Nurse
Dr. Mel Wade, M.D., Anesthesiologist
Kim Wiebe, R.N., Nurse
Dr. Monica Zilkoski, M.D., Orthopedic Surgeon 
Narrative:
By Missy and Guy Farris, and Dr. Ted Ragsdale, M.D.
Edited by Eric Miller
Our team arrived by plane in Quito at 2:00 AM. At 7:00 AM we were zoomed off to the Riobamba Military Hospital with fully armed military police protection, complete with flashing lights on their vehicles. We went directly to screen over 100 pediatric musculoskeletal patients for surgery and got to Hotel Molino at 10:30 PM. This trip was certainly not a vacation!
Four 15 Hour Days of Surgery
We then completed four 15 hour days of surgery on dysplastic hips, club feet, limb anomalies, hand issue deformities, osteochondromas, cerebral palsies, non-unions and generally more pathology than we saw in an entire residency. Dr. Ragsdale, M.D. felt he was more an assistant/spectator throughout the trip – he even helped Dr. Chong, the obstetrician/gynecologist, remove an eight inch ovarian cyst! The patients and families were effusively grateful. One even brought a roasted cuy for the team, the Andean term for cooked guinea pig – a very high honor.
A Day of Rest
Then we had a day of rest and visited Mt. Chimborazo – 2 km higher than Everest when measured from the center of the earth. We hiked up to the Whymper Hut at 16,000 feet, then returned to the bus as a snowstorm hit. On a switchback going downhill, the bus nearly slipped over an edge.
The next day we conducted 12 hours of cast changes and a wound clinic on 40 surgical patients. There was a party at Hotel Molino with a full roast pig and an Andean music band. Members of the Ecuadorian sponsoring foundation, El Cielo para los Niños, also attended.
Although the Ecuador trip was a "short" one with only eight days of actual "hands on" work, Dr. Shaw, M.D. and the surgical teams were able to complete 84 orthopedic surgical procedures, including one below knee amputation, 3 complicated hip procedures, multiple club foot corrections, and operations allowing children with cerebral palsy to walk with the aid of leg braces. The team also fabricated custom wrist/hand/arm braces to enable three kids to achieve functional use of their hands or arms.
A Lack of a Physical Therapist, Then an Abundance
The lack of a physical therapist for this trip could have been devastating to the children who needed crutches or walkers to use during rehabilitation, but two of the young men from the Foundation, Andres and Julio, jumped in and fabricated seven pairs of crutches and eight walkers over several days using PVC pipe brought from their base six hours away in Guayaquil. Subsequently, two Ecuadorian Army soldiers trained in physical therapy and a Cuban national physical therapist also appeared with offers to help with the physical rehabilitation – although that did not work because of conflicting schedules. Finally, Betty, a young therapist from Santo Domingo (who "happened" to be working nearby as a volunteer therapist) offered her services during her free hours until we left Ecuador.
Bolivia – A 10 Year Old Girl
Missy and Guy Farris met a 10 year old girl named Bolivia. Years ago she suffered an accident that rendered her right leg deformed and useless. She had not walked since the accident. Her deformed leg was very painful. The best course of action was determined to amputate the leg.
She was a very stoic little girl with a large family. Most of her family was around her hospital bed when Guy arrived the morning after her amputation to add the temporary prosthesis to the red, fiberglass cast that ended just below her knee joint. Bolivia's family was very interested in what we were going to do. Her mother sat quietly in the center of the crowd of relatives and appeared somewhat concerned that we actually expected Bolivia to walk during "rounds" with Dr. Shaw early the next morning. I think they were a little suspicious of our idea of using a plastic ankle-foot brace attached to a length of PVC water pipe "glued" to her cast would be safe to walk on! Thankfully, they allowed us to complete the process and helped us stand her at the bedside to check that her legs were the correct length. Guy assured them that tomorrow she would use her new walker for the first time. It was hard to tell, but Guy thought they believed him…except, maybe, Mom.
When Guy and Missy came to Bolivia's room the next day, she was wearing a beautiful new donated dress and shoes, her new prosthesis, and a determined face. Most of the family moved into the hospital corridor to see if she could walk, and winced when Bolivia, crying in anticipation of the pain she was accustomed to before, was helped up into her walker. With encouragement, she began to walk tentatively toward the door, bent forward trying to see if her right foot was following her. Suddenly, Bolivia's family in the corridor erupted in applause and cheering! Bolivia jerked erect with an astonished look and the sun in her face radiated out in a huge grin. She walked into the hallway to her family.
Bolivia will require continued care as the amputation wound heals and a modified or new prosthesis when the healing is complete. But she now expects to walk and she will. The team intends to follow up with her on next year's mission and make a new prosthesis for her. Eventually, as she grows, she will have a "definitive" prosthesis made locally using much more durable and adjustable fabrication components.
Shortly after cast change day, Drs. Kim Geelan, M.D., and David Noall, M.D. departed to Coya, Peru to do cast changes on the patients they worked on at the Kausay Wasi Clinic in Coya, Peru in February 2019. It was certainly more convenient to travel from Ecuador than to return to the U.S. and start the travel experience all over again!
Earthquake
The team, less Drs. Geelan and Noall, returned to Quito for more extreme bussing with our armed military guards (who had never left us the whole trip) managing to narrowly miss joining the collision between a petroleum truck and oxygen truck that was clearly destined for pyrotechnics. Later the bus wedged on yet another switchback before getting all of us to Hotel Quito. After a 4 hour bus ride, we assembled at the top story of the Hotel's panoramic restaurant for beverages and a relaxing final dinner. Or so we thought.
We found ourselves swaying like palm trees in a wind storm as all the glassware spun off the racks and shattered around us. We were evacuated from the Hotel. The damage in Quito was relatively small from the 7.8 quake when compared to the extensive damage in the coastal cities near the epicenter of the quake. Sadly, the brother of the leader of El Cielo Para Los Niños, Zorayda Figueroa, died in a collapsed building.
The Trip Home, Complete with Medical Emergency
Our trip home to Oregon via Houston was an event unto itself! We took off by plane the next morning. There was a medical emergency en route which Dr. Shaw and another physician on board attended to right across the aisle from Guy and Missy. Dr. Shaw resuscitated a collapsed passenger. Guy Farris became involved when he offered his fleece jacket as a pillow for the lady in distress. She promptly threw up on it. Turns out the emergency was related to dehydration. Ironic.
And our flight to Houston also took a couple of extra days due to the thunderstorms, tornado warnings, torrential rains and flooding in the Houston area. This bad weather resulted in a "ground stop" at Houston Intercontinental and a mad scramble for a new flight (or hotel room) until the following morning!
What a memorable trip! It ended in a sigh, as we slept most of the way to Portland.