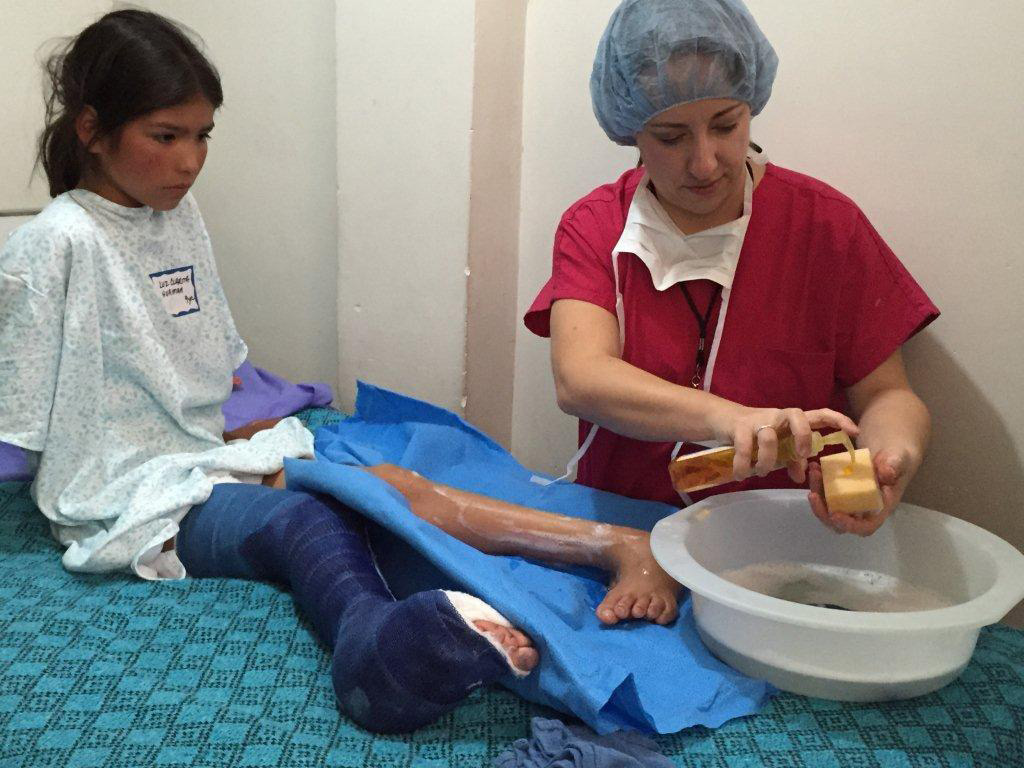 Team Leader: Dr. David Shaw, M.D.
Team Type: Children's Orthopedics, Prosthetics, Physical Therapy, and Occupational Therapy
Campaign Summary: There were 174 consultations and 29 surgical procedures performed.
The Campaign was Financed by Team Members and their Supporters. Some Supplies, Services, and/or Funds were Donated by the Following:
Americares — Stamford, Connecticut
MAP International — Brunswick, Georgia
Salem Health — Salem, Oregon
Team Members:
Dr. Angela Anderson, M.D., Anesthesiologist
Sherri Furch, Scrub Technician
Nicole Garcia, Nurse
Dr. Kim Geelan, M.D., Anesthesiologist
Dr. David Noall, M.D., Orthopedic Surgeon
Sandy Pickle, Nurse
Samantha Schmit, Nurse
Suzanne Sharp, Nurse
Dr. David Shaw, M.D., Orthopedic Surgeon
Letti Turner, Nurse
Dr. Ted Vigeland, M.D., Orthopedic Surgeon
Tess Vigeland, Journalist
Narrative
:
By Lettie Turner, Registered Nurse
Luz Clarita Huaman (whose name means Clear Light in Spanish) came to the Clinic by unusual means. She lives high in the Andes. She was not living with her parents for reasons I don't know. It could have been home issues or location to a school; I really don't know.
A taxi driver was listening to the radio when he heard the advertisement from the Kausay Wasi Clinic letting people know that an orthopedic medical team from the United States would be in town to consult and operate on children in need. He knew of Luz and her club feet. He contacted the foster mother and she brought her to the Clinic. She was terribly shy and reserved. She was around 9 years old. She had very profound bilateral club feet, some of the most profound club feet I had ever seen. Some of the photos show her reserved nature which no doubt was impacted by her club feet and new surroundings she found herself in. It was decided that surgery could correct her club feet. Her biological parents needed to be found to get permission. It took some time to find her parents and get their permission for the surgery, but eventually permission was obtained.
We operated on one foot on February 3rd and the second one two days later. The foster Mom was with her all the time.
Two straight feet and two big blue casts later, she was all smiles. She has a long road ahead of her, but with therapy she will do remarkable.
ADDEMDUM TO NARRATIVE:
Dr. Shaw saw Luz at Kausay Wasi Clinic on the 2016 trip. She is doing well in life and school.