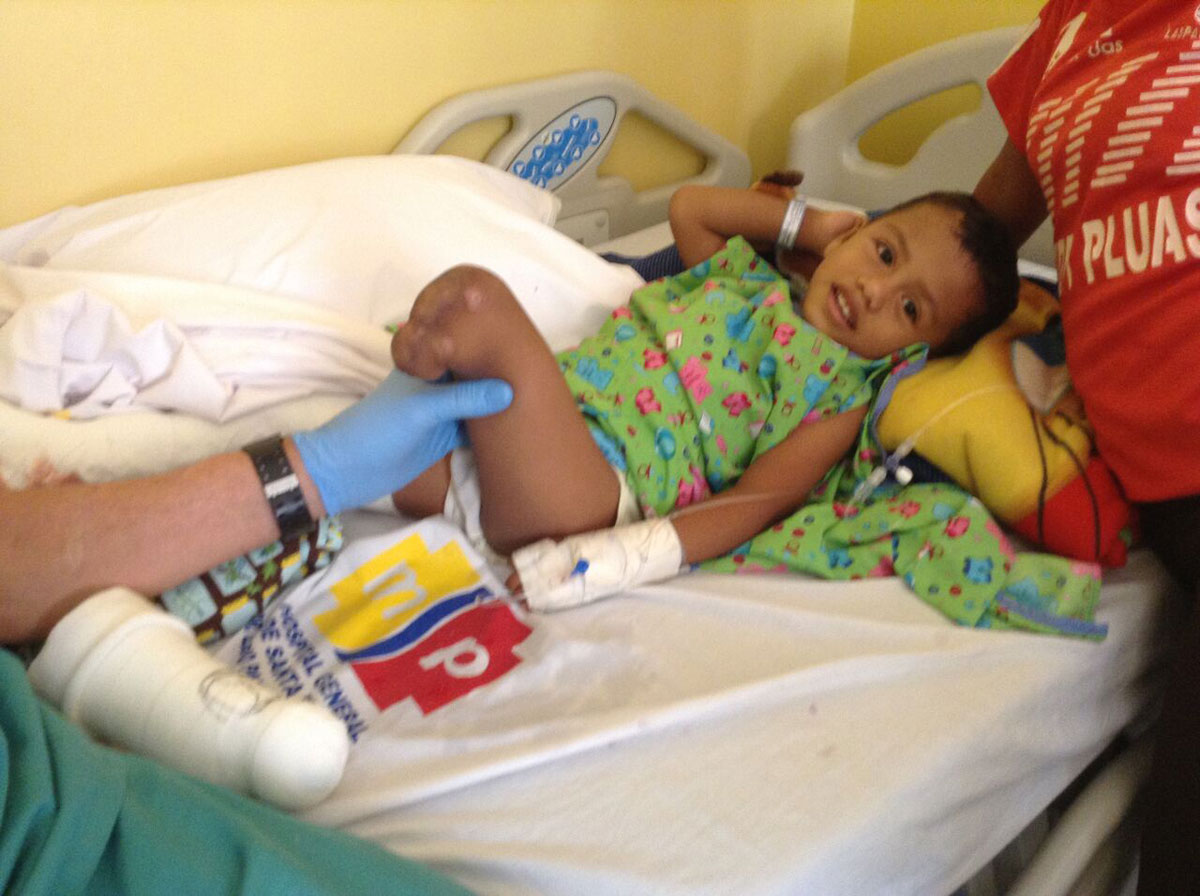 Team Leader: Dr. David Shaw, M.D.
Team Type: Children's Orthopedics, Prosthetics, Physical Therapy, and Occupational Therapy
Campaign Summary: Hundreds of children were triaged and 50 surgical procedures were performed. There were an additional 35 routine cast changes following the surgeries. The orthopedic department fitted 40 ankle foot orthotics (lower leg braces), one knee ankle foot orthotic (long leg brace), four custom hip braces, one custom shoulder brace, two custom fiberglass cast ankle foot orthotics, a prosthetic leg, and several shoe inserts/wedges.
The Campaign was Financed by Team Members and their Supporters. Some Supplies, Services, and/or Funds were Donated by the Following:
Americares — Stamford, Connecticut
Team Members:
Dr. Nathan Bay, M.D., Anesthesiologist
Guy Farris, Prosthetist and Orthotist
Missy Farris, Assistant
Sherri Furch, Sterile Processing
Nicole Garcia, Nurse
Bianca Gigante, Physical Therapist
Ann Kelly, Nurse
Suzanne Sharp, Nurse
Pat Moss, Interpreter
Dr. David Noall, M.D., Orthopedic Surgeon
Sandy Pickle, Nurse
Samantha Schmidt, Nurse
Dr. David Shaw, M.D., Orthopedic Surgeon
Lettie Turner, Nurse
Kim Wiebe, Nurse
Dr. William Zhong, M.D., Anesthesiologist
Narrative
:
By Guy Farris
I almost wanted to stay in Ecuador, the trip was so good! Well, not really…but almost. I do think that, for me, it was the best trip in the last 10 years. One reason is that Missy and I got to work together for the first time. I was the glorified technician; she was the brains and coordinator of our orthotics and prosthetics crew (just the two of us). Just like home…
It was one of those "ambiguous" beginnings again this year. We knew we were going to southern Ecuador and could safely fly into Guayaquil, but we didn't know until a few days before we left exactly where we would even be working! It seems two hospitals (in Salinas, 2 hours away and Riobamba, 4 hours away) were having a "bidding war" as to who would host the team this year. We almost felt like LaBron James during the NBA draft! The real issue was where we could serve the most kids and it turned out it was the coastal city of St. Helena. We had been to this beautiful area at least twice before and were looking forward to seeing some of the kids we had worked with in the past.
The flight to Ecuador was very routine except for the Houston to Bogota, Columbia leg which, without A/C somehow, was a HOT five hour tour through Dante's inferno. Too hot to sleep, so we tried to catch up, sleeping on the floor in the Bogota airport (which was COLD). I felt like we were caught in a Swedish sauna "groundhog day" nightmare! But they had good Colombian coffee at 6:00 AM. We all survived to make the flight to Guayaquil at 8:30 AM.
When we arrived at the newly constructed hospital in Salinas later that morning after our bus ride from Guayaquil. We were very impressed with the gracious staff and the very pleasant prospect of working in a clean, well-lit, and AIR CONDITIONED hospital for the first time ever! I started feeling guilty when I didn't sweat through my scrubs after the first 15 minutes in triage. We went to work in earnest for the next 8 hours examining the children to determine which ones we could help in the time we were here.
Over the next 5 days, the orthopedists were able to perform 50 surgeries and 35 cast changes. The physical therapist moved too fast for us to keep an accurate count of her many sessions of treating patients and making PVC pipe walkers and crutches for the kids who needed them to be able to walk. She even enlisted the hospital security personnel to help her make the walkers. You've never seen anything as cool as a macho Ecuadorian in uniform and a pistol on his belt kneeling over a PVC pipe walker-in-progress, gluing the pieces together for our patients.
My favorite patient this year was Anderson Munoz, a three year old boy with a right ankle-foot deformity requiring an Ankle Foot Orthotic to allow him to walk AND a congenital absence of his left leg which prevented him from walking at all. He was a very cute and engaging kid who had always "walked" on his knees. He had thick calluses on both knees, and just a little two inch long section of leg bone below his left knee which he bent out of the way while knee walking. We fitted him with a brace to use after surgery to correct his right ankle, and molded him for a prosthetic left leg. The prosthesis was unique in that he put it on with his left knee "straight", then bent his knee, putting his "leg" through a hole in the back of the prosthesis. This allowed him to walk bearing weight on his left knee (with a full length peg leg touching the ground) and his corrected right foot at the same time. He had never walked upright before, but now he is walking fully upright. He will follow up with us next year for a new prosthesis with a foot on it. You should see him; he acts about six feet tall now. We've included a couple of pictures of him before/after in the link below.
In the end, we fitted 40 ankle foot orthotics (lower leg braces), one knee ankle foot orthotic (long leg brace), four custom hip braces, one custom shoulder brace, two custom fiberglass cast ankle foot orthotics, a prosthetic leg, and several shoe inserts/wedges. And only broke a sweat a couple of times because it was, yes……air conditioned!
If you'd like to see pictures of the kids and what went on in Ecuador, you can click on the link below. There are several pictures of Anderson!