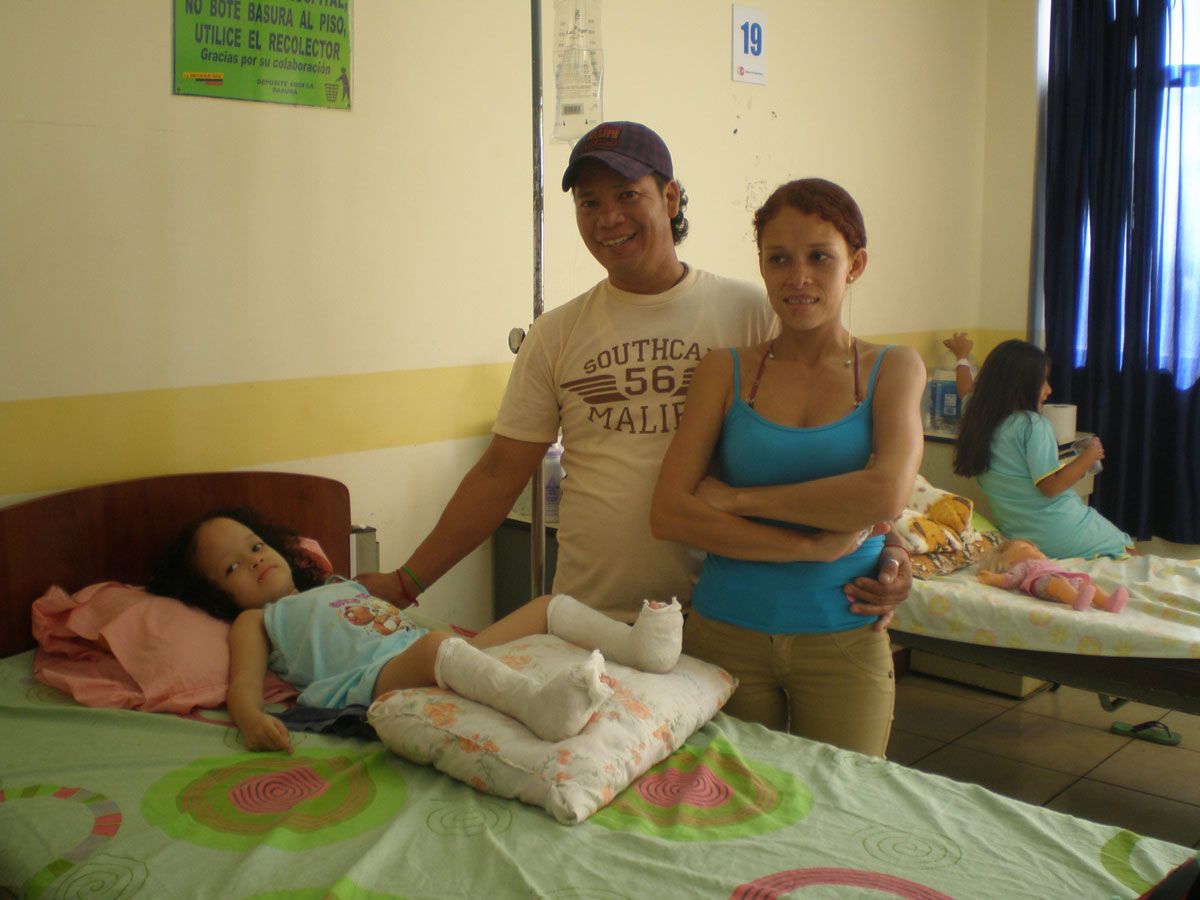 Team Leader: Dr. David Shaw, M.D.
Team Type: Children's Orthopedics, Prosthetics, Physical Therapy, and Occupational Therapy
Campaign Summary: There were around 75 children triaged and 60 surgical procedures performed. There were 23 leg braces, several wrist/hand braces, 5 custom hip braces, and 2 prosthetic limbs fabricated and fitted, as well as the manufacture of several crutches and walkers.
Supporters:
Americares — Stamford, Connecticut
MAP International — Brunswick, Georgia
Team Members:
Guy Farris, Prosthetist and Orthotist
Missy Farris, Administration
Andrea Hughes, Nurse
Laurie Hyndman, Nurse
Heather Lehrman, Physical Therapist
Shannon Levin, Orthotist and Prosthetist
Neil Mahoney, Nurse
Patricia Moss, Interpreter
Jacob Nicholson, Nurse
Sandy Pickle, Nurse
Dr. Edgar Ragsdale, M.D., Orthopedic Surgeon
Tabor Scrabeck, Nurse
Dr. David Shaw, M.D., Orthopedic Surgeon
Debbie Sund, Nurse
Emily Tyra, Assistant
Dr. Ted Vigeland, M.D., Orthopedic Surgeon
Dr. Mel Wade, M.D., Anesthesiologist
Kim Wakefield, Nurse
Dr. Jonathan Young, M.D., Anesthesiologist
Sabrina Zeeb, Nurse
Narrative
: Written by: By Guy and Missy Farris
Last year, we narrowly avoided a 12 hour bus ride at the end of our flight. This year we weren't so lucky. Not only did we have to fly to Lima, Peru before continuing the flight (back) to Ecuador, our departure time from Peru to Ecuador was delayed an additional 6 hours. This delay turned the layover into 12+ hours — and we could not leave the airport!
When we finally arrived in Guayaquil, Ecuador, we immediately boarded our bus for the trip through the coastal banana plantations to our destination city of Machala. Because a full day of clinic time had simply been erased from our planned work schedule due to the flight schedule change, we were concerned that we would not be able to address the needs of all those waiting for services. We found, to our surprise, that a number of families had simply left the clinic for home when they learned of the delay. Many returned the following day for triage and we were in business!
Along with our group of returning physicians, nurses, and therapists, there were a few "first timers" this year. We were grateful to have Shannon Levin, an Orthotist/Prosthetist from Salem and our granddaughter Emily Tyra with us on the trip. Shannon not only shared a significant part of my usual workload, she was able to make two above knee artificial limbs, neither of which would have been possible without her training and skills. Emily worked with the parents and kids before and after surgery as well as helping out in the operating rooms and fabricating crutches and walkers with our occupational therapist, Jennifer.
Even with the abbreviated clinic time during this trip, we were able to see over 75 kids and perform 60 surgeries (the majority being for clubfoot and hip or leg deformities). There were 23 leg braces, several wrist/hand braces, 5 custom hip braces, and 2 prosthetic limbs fabricated and fitted, as well as several crutches and walker made on site for the kids we worked with this year.
One of the prosthetic patients, a young girl about 12 years old, arrived with a "proximal femoral focal deficiency", which is a rare, challenging, and interesting developmental deformity caused when one (or both) of the long thigh bones (femur) fails to grow in length as the infant develops. In this case, because there was no proper thigh, the knee on the affected side was just below the hip and the foot was just about at the same height as the knee of the unaffected leg. It was necessary to build an artificial leg that the little girl could stand in with the "knee" positioned just beneath her actual foot and a prosthetic leg and foot extending to the floor. This device allowed her to stand in normal alignment and walk using the ankle of her affected leg as the "knee" for that side. She was able to walk out of the clinic late the following afternoon! I'm sure we'll see her next year to make improvements and adjustments as she continues to grow.
The trip continued to be eventful even during the last leg home during the flight from San Francisco to Portland. About 50 miles from Portland, an elderly gentleman suffered an in-flight "medical emergency" (probably a heart attack) and the crew asked if there were a doctor on board. And there we were, almost a complete trauma team on board (we comprised 1/3 of the passenger list), and Dr. Shaw and the nursing team went to work within seconds while the rest of us prayed for the patient as the plane rapidly descended in an emergency landing approach into Portland International Airport. Thankfully, the man's heartbeat and breathing were restored prior to landing and although we did not learn of his later condition, we do know that our team was not on that plane because anyone knew the gentleman was going to need medical assistance.