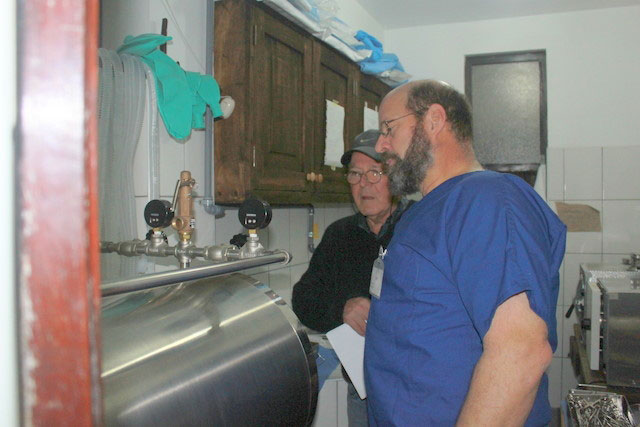 Team Leader: Dr. David Shaw, M.D.
Team Type: Children's Orthopedics, Prosthetics, Physical Therapy, Occupationa Therapy, and General Surgery
Campaign Summary: There were 185 consultations and 62 surgical procedures performed.
Supporters:
Americares — Stamford, Connecticut
Team Members:
Guy Farris, Orthotist and Prosthetist
Dr. Bill Gallagher, M.D., Orthopedic Surgeon
Susan Gannon, Physical Therapist
Bianca Giganti, Registered Nurse
Dr. Kim Geelan, M.D., Anesthesiologist
Cathy Harrahill, Registered Nurse
Lauren Kjos, Translator
Heather Lehrman, Occupational Therapist
Sandy Pickle, Registered Nurse
Susan Sanazaro, Registered Nurse
Nancy Schmidt, Registered Nurse
Sheldon Schmidt, Engineer
Tabor, Scrabeck, Registered Nurse
Dr. David Shaw, M.D., Orthopedic Surgeon
Dr. Tracy Taggart, M.D., General and Trauma Surgeon
Dr. Ron Turkerr, M.D., Pediatric Orthopedic Surgeon
Lettie Turner, Registered Nurse
Dr. Jonathan Young, M.D., Anesthesiologist
Narrative
:
After a 24 hour journey from Portland, Oregon to Coya, Peru, week one began with orthopedic triage at the Kausay Wasi Clinic. There was a quick stop at the Coya Guesthouse to freshen up and drop off our personal belongings. Drs. Shaw, Turkerr, and Gallagher saw patients and determined who needed surgery, physical therapy, occupational therapy, a consultation from the orthotist/prosthetist, and who didn't need further care. It was so nice to see our past patients named Deisi, Mishell, and Vicky, as we had done extensive surgery on them on previous trips. All of them were doing well and ready for the next phase of their leg corrections.
There was quite a bit of variation in the patients we saw. There was a man with a large tumor of the upper leg and buttock, a small baby with amniotic bands on the legs and hand, a man with burn injuries with scarring that needed to be revised so that feet and hands could be useful again, patients with congenital hip dislocations, and club foot deformities.
We began working in the operating room the next day, starting with one room and phasing in the second room once everyone became comfortable with the processes. Both rooms were kept busy with orthopedic cases all week, with one day pared down to one room so that those who had not seen Machu Picchu could take the day off to see it. With all the rain we were having, the trip was deemed "Wata (Water) Picchu" by those that went. Dr. Turkerr departed on Saturday morning and the team ran one room with a short schedule. They enjoyed a well-deserved afternoon off as we prepared for the next week.
Sunday marked the arrival of Dr. Tracy Taggart, a trauma surgeon from Salem Hospital on her first medical mission trip. Due to weather, her arrival was delayed until late afternoon. She was still was able to triage 39 patients and did a small procedure to release a tongue-tied child in the clinic procedure room, as well an urgent surgery to repair an incarcerated hernia in a young woman in terrible pain.
Week two of the operating room consisted of one room of orthopedic cases with Dr. Shaw and the other room of general surgery cases with Dr. Taggart. Dr. Taggart's cases consisted mainly of hernia repairs and open gallbladder removals, with a few other cases mixed in. She performed over 25 procedures in the 4 days she worked. WOW!
The physical therapists and occupational therapists were not twiddling their thumbs while the operating team worked. They kept busy seeing patients, doing therapy on the post-op patients, teaching kids how to use walkers and crutches, and showing mom's how to position their children that were in half body casts after their hip surgery. They also prepared things in the prosthetics clinic so that the team would be ready for Guy Farris, the orthotist, to do his work when he arrived later in the second week.
The Clinic also benefited from the talents of Sheldon Schmidt, who can fix about anything. The Clinic had obtained a large sterilizer, which was a welcome addition to the operating room. Sheldon and Justine, the local fix-it man, managed to position the large piece of equipment, get it wired, plumbed, and get it working so that the instruments could be sterilized faster and in larger lots than it was previously able to do.
Guy Farris arrived just a couple days before our departure to assist with a few difficult cases that needed special prosthetics, as well as get orthotics ready for the children who needed them after their casts were off. He worked tirelessly and with the help of Frida Puma, the local therapist, did some amazing things.
The big challenge of the trip and the reason Guy came down was to help Gabriel, a child that was born without legs, and only had stumps for arms. With the therapy team working together, they were able to get Gabriel sitting up for the first time using a special seat. He also was fitted with artificial arms so that he could appear more like the other children. It was so neat to see him smile and raise his arms and wave, while the people of the clinic cheered him on.
There are so many stories to tell but not enough time or space. There was a lady who had lived with gallbladder issues for 12 years and was so amazed that there were actually doctors who would listen to her, take care of her, and treat her as a person. There was the mother of the young man with the large tumor in his buttock that brought the team some freshly cooked corn on the cob and a small plate of cheese as a thank you for taking care of her son and giving both of them hope, even though it was not known if the tumor was benign or malignant at the time. (The tumor turned out to be benign after it was looked at by a pathologist in the United States).
We touched many lives, made many friends, and rekindled old ones in our short time there. Dr. Shaw will be returning to Coya in late April to do some cast changes and perhaps a surgery or two with a very small team. We look forward to a first-hand report on how all our patients from this trip are doing.