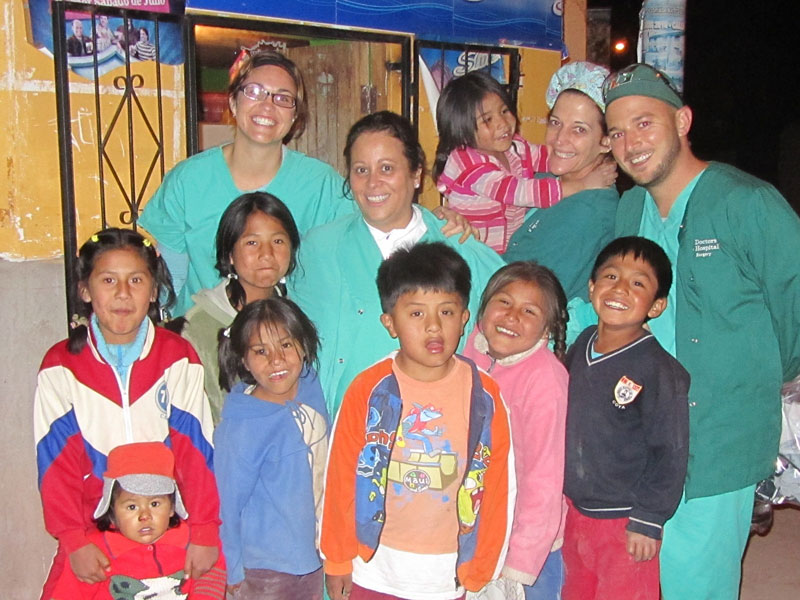 Team Leader: Dr. Anthony Cardela, M.D.
Team Type: Gynecology
Campaign Summary: Thirty-Five surgeries were completed and 112 exams were performed.
Supporters:
Boston Scientific — Natick, Massachusetts
Project Peru — Miami, Florida
Team Members:
Dr. Anthony Cardela, M.D., Gynecologist
Carmen Clements, Registered Nurse
Shannon Del Prado, Administration
Patrick Dennison, Assistant
William Gehring, Registered Nurse
Janette Lewis, Registered Nurse
Mariaelena Oliva, Assistant
Howard Pita, Administration
Amie Roberts, Registered Nurse
Dr. Yolanda Roque, M.D., Gynecologist
Norma Sabates, Assistant
Dr. Emery Salom, M.D., Gynecologist
Joyce Thomas, Assistant
Narrative
:
Project Peru would like to thank Capitol City Medical Teams for supporting our efforts again in 2010. The year was a great success. The gynecological surgery team performed 35 surgeries on women who would not otherwise have received care. The lead surgeons, Drs. Anthony Cardella and Emery Salom, performed surgeries ranging from hysterectomies and tubal ligations to repairing prolapsed uteruses (a condition where the uterus and internal organs protrude out of the body – usually caused from the stress of births and carrying heavy loads). The prolapse cases, in particular, were life-changing. These 15 cases all involved women over the age of 50 who could not lead normal, productive lives due to this untreated condition. Now, they can. The patients were all grateful for the team's efforts.
Also this year, the University of Miami-Project Peru Architect Team travelled to the Clinic and is designing the Clinic's expansion. This is an exciting partnership with the University of Miami that involves lead architects Professors Jan Hochstim and Adam Krantz, and their students. Already, they have presented their first proposals to Guido and Sandy Del Prado. For both teams, it was a rewarding, life altering experience.
Since 2008, Project Peru's medical teams have now performed over 180 surgeries. The gynecology team is already preparing their return visit. And Boston Scientific has committed to donating the necessary surgical supplies.