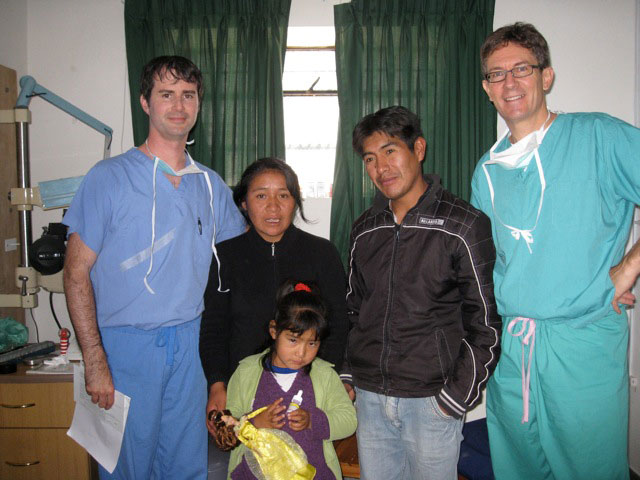 Team Leader: Dr. Brent Chalmers, M.D.
Team Type: Ophthalmology – Strabismus (cross-eyes)
Campaign Summary: 174 patients were triaged and 19 strabismus procedures were performed.
Supporters:
Alcon Laboratories — Fort Worth, Texas
Ethicon — Cornelia, Georgia
McKesson Corporation — San Francisco, California
Team Members:
Walter Anyan III, Recovery Room Assistant
Dr. Charles Bock, M.D., Ophthalmologist
Colin Bock, Assistant
Phoebe Bock, Assistant
Susan Bock, Recovery Room, Circulator
Barbara Chalmers, Assistant
Dr. Brent Chalmers, M.D., Ophthalmologist
Karen Madigan, Registered Nurse
Narrative
:
This was Dr. Brent Chalmers' and Dr. Charles Bock's second trip to Coya, Peru for strabismus surgery. Dr. Chalmers is a veteran of many ophthalmology missions to Mexico and Central America over the last 20 years. Dr. Bock is a fellowship trained pediatric ophthalmologist and one of the few in the Northwest willing to provide strabismus services abroad.
Barbara Chalmers, a librarian by training, learned to be our scrub assistant on previous missions. Susan Bock, a practicing attorney, helped with logistical issues and Clinic organization. Phoebe Bock and Colin Bock provided assistance to patients before and after surgery.
We couldn't have done this trip without Karen Madigan, our CRNA and her husband Walter, a burn recovery therapist who functioned as our recovery room nurse. They traveled from Park City, Utah.
Elizabeth Busch, Matthew Pflederis and Kristofer Tupper were interns at the Clinic and helped is many ways.
Strabismus surgery is a life changing event for these children and young adults. A wondering or crossed eye impairs social development as much or more than vision and leads to trouble finding a spouse and gaining employment. We don't commonly see people with crossed eyes in our country because most have surgical repair as infants. We were gratified to offer this service to the children of Peru.