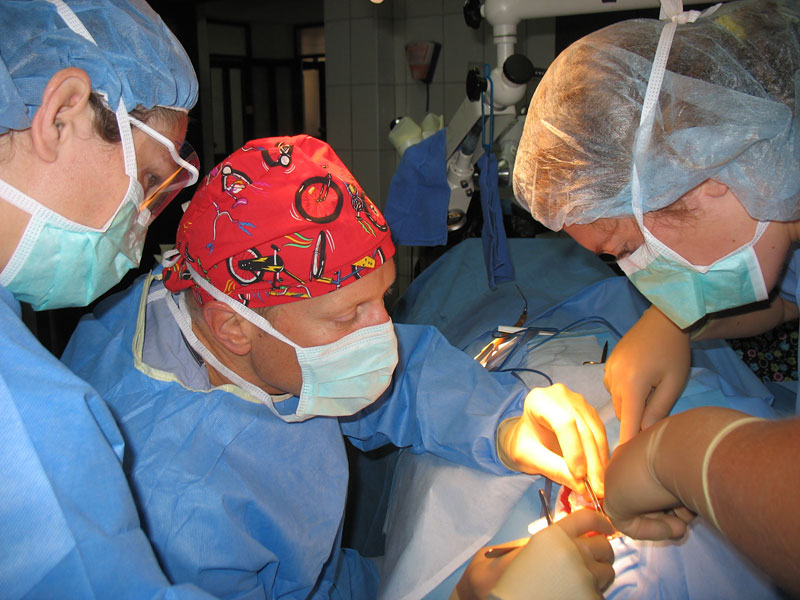 Team Leader: Dr. John Donovan, M.D.
Team Type: Otolaryngology (Ears, Nose and Throat – ENT)
Campaign Summary: 170 patients were seen. Twenty-one surgeries including tonsillectomies, adenoidectomies, tympanoplasties, septoplasties, and nasal polypectomies, were completed.
Supporters:
Americares — Stamford, Connecticut
River Road Surgery Center — Salem, Oregon
Salem Hospital — Salem, Oregon
St. Vincent's Hospital — Portland, Oregon
Stayton Pharmacy — Stayton, Oregon
Team Members:
Dr. Greg Barth, M.D., Otolaryngologist (ENT)
Patti Bolthouse, Nurse
Dr. John Donovan, M.D., Otolaryngologist (ENT)
Katie Donovan, Assistant
Lauren Donovan, Assistant
Hannah Dreher, Assistant
Dr. Kim Geelan, M.D., Anesthesiologist
Amanda Graves, Assistant
Tamarra Fluty, Nurse
Eric Miller, Administrator
Gwen Sierra Schneider, Nurse
Dr. Linda Stevenson, M.D., Anesthesiologist
Martina Vawser, Surgical Technician
Narrative
:
The team was unable to formally meet before arriving in Cuzco, Peru. One team member started his trip from Minnesota. Another member started from Redmond, Oregon. Four others left Portland four days earlier than the rest of the team. The remainder of the team left from Portland, Oregon. The good news was everyone arrived on time in Cuzco to be picked up by Guido Del Prado of the Kausay Wasi Clinic (www.KausayWasi.org) for an hour ride to Coya in the Sacred Valley of the Incas.
No time was lost once the team arrived because there were at least 40 patients waiting to be screened by Dr. Donovan and Dr. Barth. The rest of the team unpacked and organized supplies. A surgery schedule was soon made.
While screening patients the team had excellent translators. Two friends of Sandy Del Prado were a great help the first day. Faith Bauerbaum, a senior pre-med student from Brown University, was volunteering at the Clinic for a month. Mike Hatch, a fourth year medical student from the University of Pennsylvania, volunteered his translation skills while getting an extra lesson on ear, nose and throat diagnosis.
Dr. Barth and Dr. Donovan then alternated days in surgery and clinic. Dr. Donovan transported and donated an audiometer, and instructed Clinic staff on basic audiology. Most of the team's cases involved improving hearing by repairing perforated eardrums (Tympanoplasties) and improving breathing with nasal surgeries and/or tonsillectomies. Dr. Barth also biopsied a facial malignancy and the patient was referred to Lima for further care. Five patients were also screened for Dr. Brock's ear, nose and throat trip in late September.
Dr. Stevenson tackled the large project of organizing and inventorying the Operating Room pharmacy. Many teams are unable to take back the medicines they bring from the United States so they leave them at the Clinic. She disposed of outdated medicine, organized the ones remaining, and made an inventory of medicines so other teams will know which medicines they don't need to bring.
There were a couple of afternoons when the surgeries finished early and team members cleaned and reorganized all the operating room supplies. Kim thought it looked really "spiffy" when it was all done!
Two days before the end of the trip, Eric and Sierra were taken up into the Accha Alta Valley in the Andes Mountains by Sandy Hart and Sandra McGirr of DESEA Peru (Sustainable Development in Action) (www.DESEAPeru.org). Miriam Chuquitapa, the Rural Health Nurse of the Kausay Wasi Clinic, also joined the group. They saw DESEA's new water filter workshop in the community of Accha Pampa. Our pictures show several filters being made and a mold used to form the filters. The filters looked like something from Easter Island.
After viewing the water filter workshop, the next visit was to an indigenous, Quechua-speaking family of seven in the small community of Chaipa at about 14,500 feet. Miriam first approached the family to talk to them about the purpose of our trip because it's common for native women to run from non-indigenous people when they approach them. The family agreed to a visit. The 38-year-old mother was pregnant with her fifth child and for her safety and the baby's safety, she was encouraged to come to one of the hospitals in the Urubamba Valley to deliver her baby. She said she would consider it. Sandra McGirr then conducted physical exams on the mother and children. After the exams were finished, Sierra played soccer with the children.
As they went down the mountain Sandy Hart took several water samples from the water filters they had already installed as well as groundwater sources to monitor E. coli and total bacteria. Even though these communities are very remote, animals graze in their streams and contaminate their groundwater making it unhealthy for themselves and people downstream to drink.
With funding from Green Empowerment in Portland, Oregon, The Annenberg Foundation in Los Angeles, California, and Global Water, in Oxnard, California, more water filters are planned to be installed by DESEA. The Canadian International Development Agency in Ottawa and the International Foundation in Fairfield, New Jersey are funding a rural health initiative in these communities where some local women will be trained in community health and hygiene practices and paid with nutritious, locally-grown food. It is anticipated that these community leaders will then assist in training their communities about what they have learned so that their living conditions can be improved. (Capitol City Medical Teams provides grants to support all of the above efforts.)
Before the entire team caught their plane for home, we stopped at an orphanage for hearing and language impaired children in Cuzco to donate several stuffed animals and some school supplies. If any of these children need surgical help in the future, we hope we or another Clinic team can provide it for them.
The trip ended like it began. Team members left Cuzco and Lima at different times for home. Some flights were changed due to a variety of factors. When Eric went through Immigration control in Miami he was told to step into a private office so that some of his information could be verified. This is the third time in three trips that he's been escorted off from the group for an additional screening. When asked why this has happened, he was told he has a common name and was encouraged not to change it to John Smith. I guess Immigration personnel can have a sense of humor after all. Perhaps some day he might find an answer as to why Immigration is interested in him. Either way, he now just expects to be delayed on future trips. No short airline connections for him!
Everyone arrived home safely and happy about what he/she was able to accomplish and thinking about where and when the next medical trip will be.