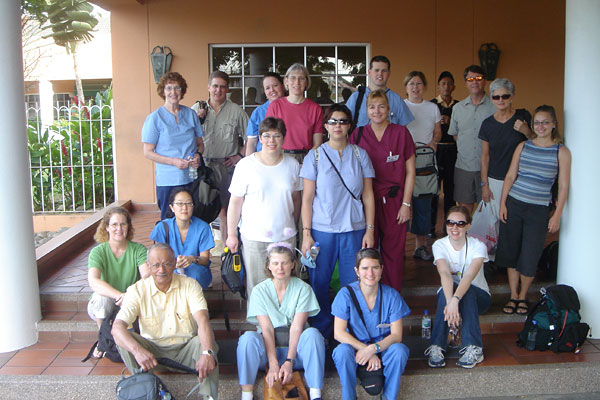 Team Leader: Dr. David Shaw, M.D.
Team Type: Children's Ophthalmology, Children's Orthopedics, Children's Hand, Prosthetics, Physical Therapy, and Occupational Therapy
Campaign Summary: Over 300 children were screened, 96 procedures were performed, and 85 children received therapy.
Supporters:
Americares — Stamford, Connecticut
Cascade DAFO — Ferndale, Washington
El Cielo Para Los Ninos Del Ecuador — Guayaquil, Ecuador
Hospital Teofilo Davila — Machala, Ecuador
One Child at a Time — Salem, Oregon
Team Members:
Sherrill Beck, Physical Therapist
Dr. Morris Button, M.D., Hand Surgeon
Vicki Cadwallader, Operating Room Nurse
Jude Elliot, Orthotist
Jennifer Frydl, Occupational Therapist
Dr. William Gallagher, M.D., Orthopedic Surgeon
Dr. Kim Geelan, M.D., Anesthesiologist
Torey Jovick, Translator
Dr. Susan LeClair, M.D., Anesthesiologist
Katie Paise, Translator
Susan Rector, Operating Room Nurse
Nancy Schmidt, Ophthalmologic Nurse
Sheldon Schmidt, Handyman
Dr. Gary Servais, M.D., Ophthalmologist
Jane Servais, Ophthalmologic Nurse
Dr. E. David Shaw, M.D., Orthopedic Surgeon
Lettie Turner, Recovery Room Nurse
Jami Yi, Nurse
Narrative
:
Before our trip, students of Salem Heights Elementary School in Salem, Oregon organized a stuffed animal drive. They collected more than 300 stuffed animals for our team to give to the children of Machala. Dr. Shaw explained to the students that these animals are given to the children when they are screened by our team. These animals help make the children feel comfortable and trust us. Team members visited the school to thank them for the stuffed animals. Judy Merriss explained what surgeries we often perform and dressed students up in operating room apparel to help them role play a surgery or two.
Upon arrival at the Hospital Teofilo Davila, we were greeted by a large crowd of people wanting to have their children screened. Many had traveled all day to see us and waited patiently in long lines. For many of these Ecuadorians this was their only opportunity to be seen by medical professionals. After triage, we had another full surgery schedule ahead of us.
Dr. Servais was busy performing strabismus operations to correct crossed eyes. Dr. Button had hands to operate on, and Dr. Shaw and Dr. Gallagher were performing orthopedic surgeries.
Strabismus is the medical term for crossed-eyes. People with this condition will often suppress the use of one eye and no longer have binocular vision and depth perception. This condition is called amblyopia and many people are incorrectly labeled retarded or disabled. Many are not able to be employed and women are not able to get married and have families. Sometimes amblyopic individuals can use one eye at a time and this condition is called alternating strabismus. If strabismus is surgically corrected before the age of 10, amblyopia can be prevented and they can live a normal life with normal vision.
Hugo was born with severely deformed toes on one foot and severely deformed fingers on one hand. Dr. Button spent several hours straightening and pinning the fingers for them to be straight. At the same time, Dr. Shaw and Dr. Gallagher straightened the toes.
Adamaris was a young girl who was born with bilateral club feet preventing her from walking without pain or wearing shoes. The first leg was corrected and three days later her second leg was corrected. She should be walking without pain soon.
David was born without a tibia. With this condition he had never walked and never would. It was decided that the best procedure for David was to amputate part of the deformed leg and have Jude Elliot make a prosthesis for him to walk on. After surgery and fitting the prosthesis, he was able to get out of bed and stand for the first time in his life. With the help of Sherrill Beck, physical therapist, the mother helped her son walk for the first time.
One of our previous patients, Viviana came back to see us. She had suffered from Blounts Disease which is a congenital bowing of the legs. Due to her family's financial condition, she was never able to get medical attention. She had reconciled her life to live with this deformity. Fortunately, she came in contact with Cielo Para Los Ninos and Dr. Shaw. Corrective surgery was performed, casts were applied, and therapy provided. At 16 she returned to visit us on this trip and she is doing wonderfully. What a difference our work makes in the lives of children like Viviana! She is currently studying to work in the tourist industry.