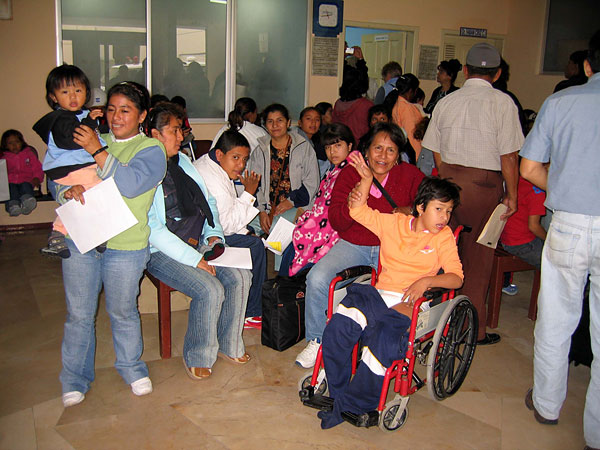 Team Leader: Dr. David Shaw, M.D.
Team Type: Children's Orthopedics, Prosthetics, Physical Therapy, and Occupational Therapy
Campaign Summary: About 280 children were triaged, 50 surgical procedures performed and over 70 children received therapy and/or bracing.
Supporters:
Americares — Stamford, Connecticut
Cascade DAFO — Ferndale, Washington
El Cielo Para Los Ninos Del Ecuador — Guayaquil, Ecuador
One Child at a Time — Salem, Oregon
Team Members:
Hallie Applebaum, Translator
Patti Bolthouse, Operating Room Nurse
Vicki Cadwallader, Operating Room Nurse
Sherri Furch, Registered Nurse
Dr. Kim Geelan, M.D., Anesthesiologist
Dr. Jean Henderson, M.D., Anesthesiologist
Brenna Horan, Translator
Dr. Susan LeClair, M.D., Anesthesiologist
Elizabeth Manson, Occupational Therapist
Eric Miller, Administration
Rob Owens, Prosthetist
Maddie Rowell, Translator
Dr. E. David Shaw, M.D., Orthopedic Surgeon
Carlisa Severs, Administrative Assistant
Julie Speck, Physical Therapist
Darcy Struckoff, Translator
Lettie Turner, Recovery Room Nurse
Dr. Ted Vigeland, M.D., Orthopedic Surgeon
Narrative
:
Our team flew to Quito where we were greeted at the hotel by our first patient, Tatiana. She was hit by a car several years earlier and was a paraplegic and bedridden. She first came into our lives on our first trip to Ecuador in 1999. (This was the same year that Luis visited us and Rob Owens, the orthotist and prosthetist, flew back to his office in Salem, Oregon during the weekend to get a brace for Tatiana and a prosthesis for Luis.) During the 1999 trip it was determined that Tatiana had scoliosis of the spine and an unrecognized dislocation of the right hip. She had to be supported to sit up. It was decided to have her femoral head removed with a girdlestone arthoplasty procedure. After surgery she was now able to use a wheelchair and enrolled in school. Later in 2002 a Loque rod was placed in her spine to straighten and stabilize her. Today she showed us her report cards – all high marks! Since she had grown, she needed some adjustments to the Luque rods that were placed in her back. They were pressing on her spine and causing her some pain. Dr. Shaw and Dr. Vigeland looked at her X-Rays and thought they could correct the difficulties. More on this story later.
The next day we were driven by military bus to Riobamba. Near the city of Ambato, our bus got a flat tire. Dr. Shaw thought he could perform surgery on the tire tube, but was persuaded otherwise. After a brief stop to change tires, we were on our way again.
This was our first campaign to Riobamba which is located in central Ecuador, south of Quito and Ambato. Despite being a beautiful area with spectacular mountain views, many of our team members nicknamed it 'Friobamba' because they were often cold at this 8,250 foot high city. Many team members wanted to use the hand-knitted hats made by Patti Beutler to keep warm, but they were told they were for the patients, not the team members.
Upon our arrival, there was a waiting room full of people to be triaged. Since soccer's World Cup was going on at this time and Ecuador had a team in the tournament, we weren't sure if the people were there to have their children screened or watch the World Cup soccer matches. Fortunately, they came to see us. (If you want to see a city of over 100,000 people come to a standstill, then come to Riobamba when Ecuador has a team in the World Cup. Virtually everyone was glued to a TV set when the national team played. Luckily there were no TV's in the operating room, but the Therapy Room and Recovery Room were another matter! When Eric Miller was out purchasing supplies in one of the stores, an Ecuadorian native did not think he was in the correct festive mood. So he came up to Eric and smeared red, yellow, and blue paint – the colors of the Ecuadorian flag – on his face. Now, Eric was ready to blend into Ecuadorian society like a native!)
After triage, the first week's surgery schedule was made. Tatiana had her surgery. Near the end of the trip Rob Owens made a device so that she should stand for the first time since her accident. This device will allow her to pursue her goal of becoming a graphic artist.
Rob was also visited by Luis, a young man we had helped on a previous trip. Luis was struck by a car and had an extremely painful leg deformity caused by the accident. (The accident had also killed his father.) It was decided that the best course of action was to amputate his leg and fit with a prosthetic leg. After the operation he was the happiest man to ever lose a leg. A few weeks prior to our arrival on this trip, he fell off a bus and bent his prosthetic. Rob was able to make the needed corrections so Luis could walk more easily. He's gone on with his life to support his mother and younger family members working in a Certified Public Accountant's office.
This trip also had the greatest number of translators we have ever had. Dr. Jean Henderson and another doctor from Salem had their high school aged children in Ecuador on an AFS exchange program. They helped translate and brought along a few of their English speaking friends. What a great help to have some many translators!